---
Simply Flowers
Ford Rd, Broadford, Skye, IV49 9AB, UK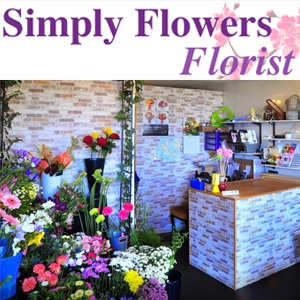 Address:
Ford Rd, Broadford,
Skye ,
IV49 9AB
About Simply Flowers:
Flowers are given to say something, to make a statement, to bring happiness and to remember. To every individual a flower will say something different. The skill of the florist is to interpret the vision of what you want to say in flowers, we listen to you.
Opening Times:
Mon

9am - 2pm

Tue

9am - 2pm

Wed

9am - 2pm

Thu

9am - 2pm

Fri

9am - 2pm

Sat

9am - 2pm

Sun

Closed
We deliver flowers to:
Ashaig
Badicaul
Balmacara
Balmacara Square
Balmeanach
Black Park
Broadford
Camus Croise
Corry
Drumbuie
Drumfearn
Duirinish
Duisdalemore
Dunan
Eilean Iarmain or Isleornsay
Elgol
Erbusaig
Ferrindonald
Gedintailor
Glasnakille
Harrapool
Heast
Inverarish
Isleornsay
Kilmarie
Kilmore
Kirkibost
Kyle of Lochalsh
Kyleakin
Kylerhea
Lower Breakish
Moll
Ord
Peinchorran
Plockton
Reraig
Saasaig
Sconser
Skulamus
Suisnish
Tarskavaig
Teangue
Torrin
Upper Breakish
Where to find us:
More About Simply Flowers & History
The proprietor Janet has worked with flowers for many years previously focussing on floral designs for events, weddings and venues, she has also taken part in many exhibitions before moving to the Isle of Skye. Janet's designs cover both traditional and contemporary, her skills are in interpretation and bringing the ideas of customers' to life in flowers.
Specialties
At Simply Flowers, we design and deliver our own stunning flower arrangements 6 days a week. Deliveries are available throughout Isle of Skye and Lochalsh. If you are unable to find your delivery location in the menu, please contact us directly for furter assistance.
Location & Delivery
Opened in Broadford, Isle of Skye in the Spring of 2012, Simply Flowers has been warmly welcomed by the people of this beautiful island and the nearby mainland.