Direct2florist Member Testimonial - Dolce Vita Florist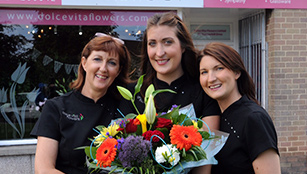 Sweet online success for Direct2florist member

When the team at Dolce Vita Flowers in Aberdeen invested in a Direct2florist website - www.dolcevitaflowers.com - they had high hopes. But little did they know just how much business the site would generate for them. After investing £350 + VAT in the site set-up and £5 + VAT per month to cover ongoing costs of hosting, domain name registration and support, the e-commerce enabled site is on course to bring £17,000 worth of business to the busy florist.

"The site just works!" comments Ande, owner of Dolce Vita Flowers. "It looks really good and isn't fussy like a lot of florist's sites. We're delighted with it and really glad we chose to invest in a site from Simon and his team at Direct2florist."

Helpful & straightforward

When asked what the secret of the Dolce Vita's site is, Ande answers: "I think it helps that I try to go on and update it regularly. I like to mix things up, change the words and pictures and add new bouquets for sale. I like to keep it active, which seems to encourage our customers to come back as they know they will see something new.

"Simon and Megan and Direct2florist are great at keeping us on the right track when it comes to keywords and metatags etc. and also advising how we can help to market our site to the public. After listening to their suggestions I signed up for freeindex.co.uk and asked some of our customers to review us. As a result Dolce Vita is now listed in the top 15 florists in the UK. The site also provides a checklist of tweaks you can make to your website in order to improve your ranking, which has been really helpful. The only thing I haven't done is add a video."

The ability to easily make changes to a website is a key function all florists should look for when investing in a new site.

Ande says: "Our Direct2florist site is really easy to update and work on. Dolce Vita has had a site for nine years now but in the past the sites we had made by a couple of different suppliers were a nightmare to update. We would make updates and then leave it for two or three years because we couldn't bear the thought of getting into a complex system. The site Simon made for us is so easy. I'm permanently logged in on my computer so can make changes as I wish."

Return on investment

For all florists, any investment needs to see a return. For Dolce Vita, as well as securing a huge volume of orders, costs are kept to a minimum too. There are no PDQ charges, no gateway charges and payment is received in three days via Barclays, in the process ensuring cash flow is no problem.

"Direct2florist is good value, not just for the website but across the board, which is why I like being a member so much," explains Ande. "Considering how much business we're getting the fees are great value for money. That's why Direct2florist is an integral part of our business. As I mentioned before, the support you receive is great."

Ande concludes by saying: "Our website really is going well and we'll continue to refresh the site, add more products for sale and continue to share shop news. I'm delighted with the website, delighted with the support from Direct2florist and delighted with how easy the site is to work. I'm really happy and wouldn't consider moving anywhere else." Visit Dolce Vita Florist.