Pioneer Florists: The Art of Constance Spry
The Queen's florist who transformed the way we look at flowers. The Iconic florist, based at 64 South Audley Street in London may not be the most well known address in the world. But, when it comes to flowers and the world of floristry, it's perhaps the most important address on the planet.
A smart yet inconspicuous street in wealthy Mayfair, there's little to give away the fact that this location played host to a revolutionary new way to look at and use flowers. Apart that is from the English Heritage blue plaque that now sits above the ground floor to commemorate the achievements of a remarkable lady called Constance Spry, who ran a hugely influential florist shop here.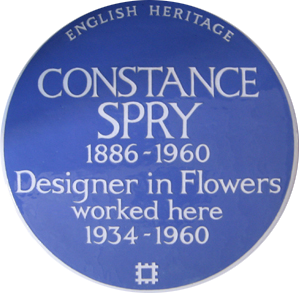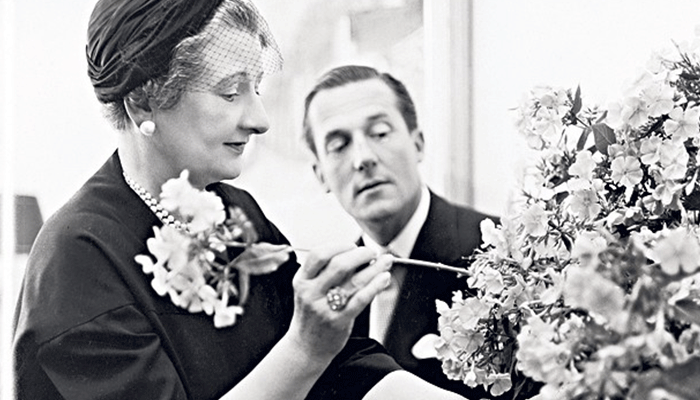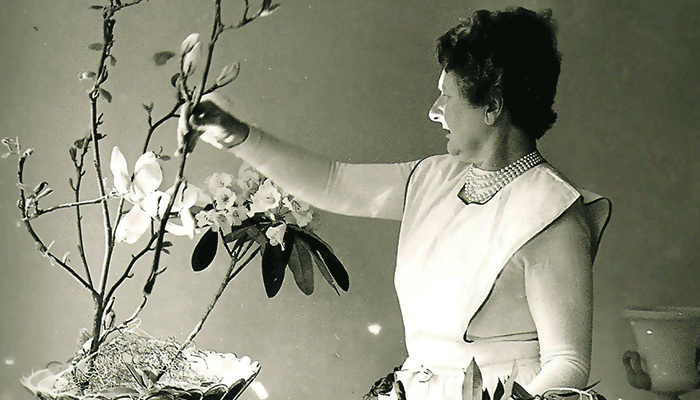 Constance Spry, artist in flower decoration, transformed the way flowers were used to decorate the home and broke with tradition in every aspect of flower arranging. From humble beginnings working on a single commission, Spry rose to be the most sought after florist in the country, providing the flowers for the Queen's wedding and coronation, as well as scores of other Society events; her window displays drew crowds and stopped traffic. Spry not only left her mark in floristry, she was also hugely influential in cookery writing, and invented Coronation Chicken for the main course at the Queen's coronation banquet in 1953.
Early Life
Born in Derby, Spry was the only daughter and eldest of six children and grew up in a number of homes due to her father's successive jobs in teaching, living in Devon and Birmingham before moving to Ireland in 1900. From 1905-1908 Spry worked as a lecturer for the Women's National Health Association in Ireland. Travelling from village to village, Spry lectured on the basic principles of first aid and nursing. In 1910 she married James Heppell Marr and had a son with him, Anthony, in 1912.
The marriage didn't last and after James volunteered for military service in 1914, Spry moved back to Dublin and later to London in 1917. It was in London, while working at the Inland Revenue, she met and fell in love with Henry Ernest "Shav" Spry. By 1923 Constance had divorced her husband and set up home with Henry, but he could not bring himself to divorce his wife.
1927 was the year that would change Spry's life forever. She received her first commission in flower arranging from Sidney Bernstein, owner of the Granada Cinema chain, who introduced her to the designer Norman Wilkinson. This proved a turning point in her career, as Spry was asked to arrange flowers for a new branch of Atkinsons perfumery in Old Bond Street. Spry decorated the shop with displays of autumn leaves and berries mixed with green orchids, drawing great crowds to the window with her revolutionary new style. Refusing to be associated with the dated Victorian and Edwardian styles of "carnations and asparagus fern", Spry made a name for herself using all kinds of plant materials. From wild flowers and twigs to moss and fruit and vegetables, anything that looked beautiful and suited the occasion was used.
Commercial Success
By the following year, Spry had given up her job to concentrate on her new business. In 1929 she set up a small shop in Pimlico which she called "Flower Decorations" to distinguish her work from the standard floral arrangements supplied by other florists.
Stock from her own garden was supplemented by flowers from Covent Garden and Spry recruited a dedicated team to cope with the increasing amount of orders. Spry's way of working continued to be unconventional; she scoured junk shops for unusual vases to hold her displays and she insisted that every arrangement should be composed in situ, as opposed to in her shop, so it would fit in perfectly with the surroundings. She challenged the view of florists, classing her and her staff as artists. She called at the front door rather than the tradesman's entrance and in return she offered an impeccable service. Commissions flooded in and larger premises were needed, so Spry moved to Mayfair to be closer to her Society clients and, in 1934, took on the lease in South Audley Street.
The move to her shop in South Audley Street marked her arrival as the most fashionable florist in London. It was in the same year she published Flower Decoration, the first of her 13 books and she also established the Constance Spry Flower School. Society weddings were a major part of her work and she turned the first floor of her shop into a wedding room where her innovative crescent-shaped bridal bouquets were much in demand.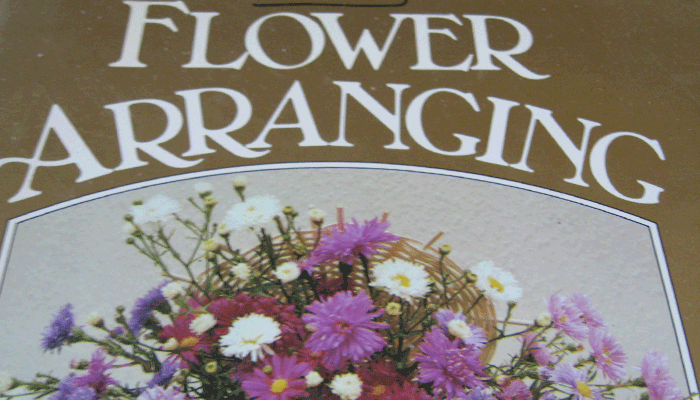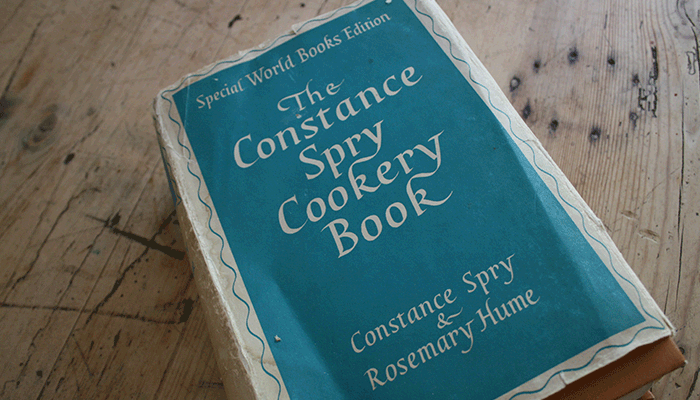 One of Spry's most daring displays was the great urns of flowering cow parsley which she used to decorate the wedding of Jo Grimond and Laura Bonham Carter in 1938, confirming the vogue for "country weeds". She counted the Prince of Wales as one of her favourite clients and, after his abdication, travelled to France to decorate his wedding to Wallis Simpson in 1937. As a consequence, Spry received no commissions from Buckingham Palace until 1947 when she was asked to supervise the flowers at Princess Elizabeth's wedding.
War and the invention of Coronation Chicken
The onset of war inevitably meant her business was pared down, but Spry kept the shop in the public eye by decorating the sandbags outside it. She turned much of her garden over to growing vegetables and keeping chickens and began to write a cookery book. Come in to the Garden, Cook was published in 1942 and by 1945 Spry had reopened her flower school in partnership with a cookery school run by Rosemary Hume. The two women were to become lifelong friends and went on to co-write The Constance Spry Cook Book (1956), although it was published only under Spry's name at the insistence of her publishers.
By 1952 Spry received the most important commission of her career, to oversee the floral decorations at the Coronation the following year. This meant not only decorating Westminster Abbey, but also the ceremonial route from Buckingham Palace, for which crates of flowers from across the Commonwealth were requested. She persuaded chief designer, Eric Bedford, and the Minister of Works, David Eccles, to adopt a simple palette of heraldic colours of scarlet, pale blue and gold. Spry also volunteered, alongside Rosemary Hume, to provide lunch for 300 guests, where they devised the famous Coronation Chicken dish.
Spry's legacy
Number 64 South Audley Street was the site of Spry's shop until the 1990s. It was her workplace for 25 years; on the day she was presented with an OBE by Elizabeth II, she was so overwhelmed she escaped Buckingham Palace and took a taxi to the shop that was her refuge. In early January 1960, she suffered a fall at her home at Winkfield Place and died soon after.
Dr Susan Skedd, English Heritage Blue Plaques Historian, said: "Constance Spry transformed the way flowers were used to decorate the home, she married a horticulturist's knowledge of plants with an artist's flair for decoration and inspired a generation to search out flowers and plants from the hedgerow, as well as from their gardens, to bring in to their homes and put the art of floristry in reach of all."
David Austin, the famous rose breeder who named a rose in her honour, told English Heriatge: "I never actually met Constance Spry, but the rose named after her was the first I bred in 1961. I have, however, seen some of her creations and remember how outstandingly beautiful they were. Certainly the name 'Constance Spry' gave the rose a great boost and it became very well known almost overnight."
Today's thriving floristry sector owes a lot to this remarkable lady – who will forever be remembered for transforming the way flowers are used.
Want to see more? Click here for more infomation on Constance Spry.