---
Flora Bella
46 Parsons Street, Banbury, Oxfordshire, OX16 5NA, UK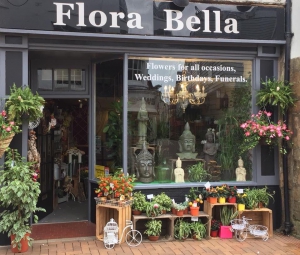 Address:
46 Parsons Street,
Banbury ,
Oxfordshire ,
OX16 5NA
About Flora Bella:
We offer fresh cut flowers, bouquets and a small selection of potted plants and gifts. We have a consultation area for clients to discuss their weddings and events with us in private.
Opening Times:
Mon

9am - 5pm

Tue

9am - 4pm

Wed

9am - 5pm

Thu

9am - 5pm

Fri

9am - 5pm

Sat

9am - 3pm

Sun

Closed
We deliver flowers to:
Abthorpe
Adderbury
Adlestrop
Adstone
Alderminster
Alkerton
Ardley
Arlescote
Armscote
Ascott
Ashorne
Aston le Walls
Astrop
Avon Dassett
Aynho
Badby
Bainton
Balscote
Banbury
Barcheston
Barford St John
Barford St Michael
Barton Abbey
Barton Hartshorn
Barton-on-the-Heath
Bascote
Bascote Heath
Baynard's Green
Bicester
Biddlesden
Bishop's Itchington
Blackwell
Blakesley
Bletchingdon
Bloxham
Bodicote
Brackley
Bradden
Broadwell
Brookend
Broughton
Bucknell
Buffler's Holt
Bunkers Hill
Burdrop
Burmington
Burton Dassett
Butlers Marston
Byfield
Calthorpe
Canons Ashby
Cattle End
Caulcott
Caversfield
Chackmore
Chacombe
Chadlington
Chadshunt
Charingworth
Charlbury
Charlecote
Charlton
Charwelton
Chastleton
Cherington
Chesterton
Chesterton
Chesterton Green
Chetwode
Chipping Norton
Chipping Warden
Church Charwelton
Church Enstone
Church Stowe
Churchill
Claydon
Cleveley
Clifton
Cold Higham
Combrook
Cornwell
Cottisford
Crimscote
Cropredy
Croughton
Crowfield
Culworth
Dadford
Darlingscote
Dean
Deddington
Deppers Bridge
Drayton
Drayton
Duncote
Duns Tew
Dunthrop
Easington
East Adderbury
East End
Eastend
Edgcote
Edgehill
Enslow
Enstone
Epwell
Ettington
Evenley
Everdon
Eydon
Falcutt
Farnborough
Farthinghoe
Farthingstone
Fawler
Fenny Compton
Fewcott
Finmere
Flecknoe
Foscote
Fringford
Fritwell
Fulready
Fulwell
Gagingwell
Gawcott
Gaydon
Geat Wolford
Gibralter
Glympton
Great Bourton
Great Purston
Great Rollright
Greatworth
Greenend
Greens Norton
Grimsbury
Grimscote
Gross Green
Grove End
Halford
Halse
Hampton Gay
Hanwell
Harbury
Hardwick
Hellidon
Helmdon
Hempton
Hensington
Hethe
Heythrop
Highfield
Hillesden Hamlet
Hinton
Hinton-in-the-Hedges
Honington
Hook Norton
Hopcroft's Holt
Horley
Hornton
Idlicote
Ilmington
Kiddington
Kineton
King's End
Kings Sutton
Kirtlington
Kitebrook
Knightcote
Ladbroke
Launton
Ledwell
Lidstone
Lighthorne
Lighthorne Heath
Lighthorne Rough
Litchborough
Little Bourton
Little Chesterton
Little Compton
Little Everdon
Long Compton
Lower Boddington
Lower Brailes
Lower Catesby
Lower Heyford
Loxley
Maidford
Marston Doles
Marston St Lawrence
Middle Aston
Middle Barton
Middle Tysoe
Middleton Cheney
Middleton Stoney
Milcombe
Millend
Milthorpe
Milton
Mixbury
Mollington
Moreton Morrell
Moreton Paddox
Moreton Pinkney
Napton on the Hill
Neat Enstone
Neithrop
Nether Worton
Nethercote
Nethercote
Nethercott
Newbold Pacey
Newbold-on-Stour
Newbottle
Newnham
Newton Morrell
Newton Purcell
North Aston
North Newington
Northbrook
Northend
Old Chalford
Old Woodstock
Over Kiddington
Over Norton
Over Worton
Overthorpe
Oxhill
Pillerton Hersey
Pillerton Priors
Plumpton
Poundon
Preston Bissett
Preston Capes
Priors Hardwick
Priors Marston
Quinbury End
Radclive
Radford
Radfordbridge
Radstone
Radway
Ratley
Rousham
Ruscote
Salford
Sandford St Martin
Sarsden
Sarsden Halt
Scotland End
Shalstone
Shenington
Shipston-on-Stour
Shipton-on-Cherwell
Shorthampton
Shotteswell
Shutford
Sibford Ferris
Sibford Gower
Silverstone
Slapton
Somerton
Souldern
South Newington
Southam
Southcoombe
Southrop
Spelsbury
Staverton
Steeple Aston
Steeple Barton
Stockton
Stoke Lyne
Stonesfield
Stoneton
Stourton
Stourton Hill
Stratton Audley
Stretton-on-Fosse
Sulgrave
Sutton-under-Brailes
Swalcliffe
Swerford
Syresham
Tackley
Tadmarton
Taston
Temple Herdewyke
The Colony
The Green
The Model Village
Thenford
Thorpe Mandeville
Tidmington
Tingewick
Todenham
Tomlow
Tredington
Turweston
Twyford
Ufton
Upper Astrop
Upper Boddington
Upper Brailes
Upper Catesby
Upper Heyford
Walcot
Walton
Walton Grounds
Wappenham
Wardington
Warkworth
Warmington
Water Stratford
Weedon Lois
Wellesbourne
Wendlebury
West Adderbury
West Farndon
Westbury
Westcott Barton
Westend
Westhorp
Weston
Weston-on-the-Green
Wharf
Whatcote
Whichford
Whistlow
Whitfield
Whittlebury
Wigginton
Wigginton Heath
Williamscot
Willington
Winderton
Wood Burcote
Woodend
Woodfield
Woodford Halse
Woodleys
Woodstock
Wootton
Wormleighton
Wroxton
Where to find us:
More About Flora Bella & History
Flora Bella Flowers is a family owned and run business headed up by Clair. Clair has been a freelance florist for many years, but took the plunge and opened up our shop in late 2016, since opening, it has been a great success and hopefully will continue for many years to come. Customer service and satisfaction is key to what we're about and we always go the extra mile to make sure everyone is overjoyed with their delivery.
Location & Delivery
We are based in the centre of Banbury Old Town, ideally located for deliveries all over Banbury and surrounding villages. The M40 motorway is 1 mile away, allowing us quick and easy access to a wide area.
All reviews for Flora Bella
Lovely Handtied for one of my customers, thank you , Karen, Bluebells Lincoln

Mum was thrilled with the wonderfully colourful bouquet, thanks a million you made her weekend xx

Very pleasant bouquet thank you

Great flowers. Wonderful helpful service. Highly recommend this florist.