---
Sallys Florist
High St, Lydney, GL15 6JN, UK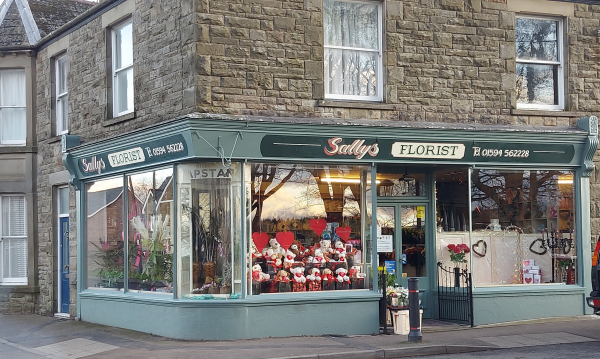 Address:
High St,
Lydney ,
GL15 6JN
About Sallys Florist:
We offer same-day flower delivery on all arrangements. Sallys Florist, your local Lydney flower shop. We deliver flowers same day throughout Lydney area and all our deliveries are made by hand.
Opening Times:
Mon

9am - 5pm

Tue

9am - 5pm

Wed

9am - 5pm

Thu

9am - 5pm

Fri

9am - 5pm

Sat

9am - 2pm

Sun

Closed
We deliver flowers to:
Allaston
Alveston
Alvington
Arlingham
Ashmead Green
Aust
Avening Green
Awre
Aylburton
Aylburton Common
Bagstone
Baker's Hill
Beachley
Berkeley
Berkeley Heath
Berkeley Road
Berry Hill
Bevington
Bibstone
Bilson Green
Blakeney
Botany Bay
Boughspring
Bournstream
Bradley Green
Brain's Green
Breadstone
Bream
Bream's Meend
Brierley
Broadoak
Broadrock
Broadstone
Brockhollands
Brockweir
Old Brookend
Bullo
Bulwark
Cam
Cambridge
Cannop
Carterspiece
Catbrook
Chapel Hill
Chapel Hill
Charfield
Charfield Green
Charfield Hill
Chepstow
Christchurch
Cicelyford
Cinderford
Claypits
Cleddon
Cleeve
Clements End
Coaley
Coalway
Cobbler's Plain
Coldharbour
Coleford
Collafield
Cotland
Cowhill
Creigau
Cromhall
Cross Hill
Crossway Green
Cwmcarvan
Damery
Devauden
Draycott
Drybrook
Duckhole
Dursley
Edge End
Elberton
Ellwood
Elton
English Bicknor
Etloe
Falfield
Far Green
Five Acres
Flaxley
Forthay
Frampton On Severn
Fretherne
Fromebridge
Glyn
Gossington
Grange Village
Great Doward
Green Bottom
Green Street
Hagloe
Halmore
Ham
Hamshill
Harrow Hill
Heath End
Heathfield
Hewelsfield
Hewelsfield Common
High Nash
High Woolaston
Highfield
Highfields
Hill
Hillersland
Hinton
Hook Street
Hoop
Howick
Howley
Hudnalls
Huntingford
Hystfield
Ingst
Itchington
Itton
Itton Common
Joy's Green
Joyford
Kilgwrrwg Common
Kingshill
Kington
Kymin
Leathern Bottle
Leyhill
Little Bristol
Little Drybrook
Littledean
Littledean Hill
Littleton-upon-severn
Llandogo
Llanishen
Lower Berry Hill
Lower Cam
Lower Hazel
Lydney
Marsh Lane
Maryland
Mathern
May Hill
Middle Street
Middle Wick
Milbury Heath
Mile End
Milkwall
Mill Hill
Millend
Milton End
Mitchel Troy
Monmouth
Moorend
Mork
Morton
Mounton
Mynydd-Bach
Nailbridge
Netherend
New Inn
New Mills
Newerne
Newland
Newnham
Newport
Newton
Newton Green
Newtown
Nibley
Nibley Green
Ninewells
Norman Hill
North Nibley
Northington
Nupdown
Nuppend
Old Down
Old Passage
Oldbury Naite
Oldbury-on-Severn
Oldcroft
Olveston
Over Monnow
Overton
Palmer's Flat
Park Hill
Parkend
Parkhouse
Pen-y-fan
Penallt
Pillowell
Pitt Court
Plusterwine
Pope's Hill
Pullens Green
Purton
Pwllmeyric
Readings
Redbrook
Rockhampton
Rodley
Ruardean
Ruardean Hill
Ruardean Woodside
Ruddle
Rudgeway
Ruspidge
Saul
Scowles
Sedbury
Shapridge
Sharpness
Shepherd's Patch
Shepperdine
Shortstanding
Slimbridge
Sling
Smallbrook
Southend
St Arvans
St Briavels
St Briavels Common
Stantway
Star Hill
Staunton
Steam Mills
Stinchcombe
Stone
Stowe
Stowe Green
Stowfield
Strand
Stroat
Sundayshill
Swanley
Symonds Yat
Talbot's End
The Cot
The Fence
The Hacket
The Knapp
The North
The Pludds
The Quarry
Thornbury
Tidenham
Tidenham Chase
Tilsdown
Tintern Parva
Tockington
Tortworth
Townwell
Tre-gagle
Trefynwy
Trellech
Trelleck Grange
Triangle
Trow Green
Tumpy Green
Tutnalls
Tutshill
Two Bridges
Tytherington
Upper Cam
Upper Hill
Upper Lydbrook
Upper Morton
Upthorpe
Viney Hill
Wanswell
Welsh Bicknor
Westbury-on-Severn
Westend
Whitebrook
Whitecliff
Whitecroft
Whitelye
Whitfield
Wibdon
Woodcroft
Woodfield
Woodford
Woodmancote
Woolaston
Woolaston Common
Woolaston Slade
Woolaston Woodside
Worrall Hill
Wyegate Green
Wyesham
Yorkley
Yorkley Slade
Overview for Sallys Florist
All reviews for Sallys Florist
Sally never fails to deliver beautiful flowers . Fantastic service .

My sister was thrilled with the flowers I sent. She Skyped me to show me how lovely they were. Would highly recommend and would use the direct2florist again.

Thank You so much for a reliable delivery and fantastic display of flowers.