---
Bay Tree Florists LTD
107 Denton Street, carlisle, CA2 5EH, UK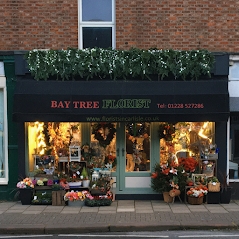 Address:
107 Denton Street,
carlisle ,
CA2 5EH
About Bay Tree Florists LTD:
Baytree Florist is an online florist based in beautiful Carlisle, Cumbria and we can deliver as far as Gretna/Silloth. Baytree florist have been established for 10 years and Ann has been in the flower industry for 25 years! Not only do we provide stunning modern/traditional flowers we can also deliver teddies, balloons, chocolates, silk flowers, plants indoor & outdoor fresh.
Opening Times:
Mon

9am - 5pm

Tue

9am - 5pm

Wed

9am - 5pm

Thu

9am - 5pm

Fri

9am - 5pm

Sat

9am - 2pm

Sun

Closed
We deliver flowers to:
Aglionby
Aiketgate
Aikton
Ainstable
Allenwood
Armathwaite
Baldwinholme
Barclose
Beaumont
Belah
Belle Vue
Biglands
Blackford
Blackwell
Bolton Low Houses
Botcherby
Boustead Hill
Brackenthwaite
Brampton
Bridge End
Brisco
Broadwath
Broomfield
Brothybeck
Browhouses
Brunstock
Buckabank
Burgh by Sands
Burnrigg
Burthwaite
Cardew
Cardewlees
Cargo
Carleton-nr-Carlisle
Castle Carrock
Chalkfoot
Churchtown
Corby Hill
Cotehill
Crofton
Crosby-on-Eden
Cumdivock
Cummersdale
Cumrew
Cumwhinton
Cumwhitton
Currock
Dalston
Denton Holme
Down Hall
Drumburgh
Durdar
East Curthwaite
Easton
Edentown
Etterby
Faugh
Fenton
Fingland
Foulbridge
Gaitsgill
Gamelsby
Garlands
Grassgarth
Great Corby
Great Orton
Green Head
Greenwell
Gretna Green
Grinsdale
Harker
Harraby
Hawksdale
Hayton
Heads Nook
Hethersgill
Hetherside
High Hesket
High Whinnow
Highbridge
Holmwrangle
Hornsby
Houghton
How
Hurst
Irthington
Ivegill
Kingstown
Kirkandrews-on-Eden
Kirkbampton
Kirkland
Kirklinton
Knowefield
Laversdale
Linstock
Little Bampton
Little Corby
Lockhills
Longburgh
Longpark
Longsowerby
Longtown
Low Braithwaite
Low Cotehill
Low Hesket
Low Whinnow
Mellguards
Micklethwaite
Middlesceugh
Monkhill
Moorend
Moorhouse
Morton
Nealhouse
Nether Welton
Newby East
Newby West
Newtown
North End
Nunclose
Old Graitney
Old Town
Orton Rigg
Oughterby
Park Broom
Parton
Ratten Row
Raughton
Rauhgton Head
Rickerby
Rockcliffe
Rockcliffe Cross
Rosley
Scaleby
Scalebyhill
Scotby
Sebergham
Skiprigg
Skitby
Smithfield
Sour Nook
Southwaite
Sowerby Row
Sprunston
Stainton
Stanwix
Stockdalewath
Stone Raise
Tarraby
Thethwaite
Thornby
Thursby
Thurstonfield
Todhills
Unthank
Upperby
Walby
Warwick Bridge
Warwick-on-Eden
Welton
West Curthwaite
West End
Westlinton
Wetheral
Wetheral Plain
Whiteclosegate
Wiggonby
Wigton
Willow Holme
Woodhouses
Wreay
Overview for Bay Tree Florists LTD
All reviews for Bay Tree Florists LTD
Customer awarded 5 stars.

Customer awarded 5 stars.

Fabulous flowers delivered promptly with no notice, brilliant service

Outstanding service for what was a very late order on my part. The bouquet was beautifully presented with super fresh flowers and foliage. I will definitely order from Bay Tree Florists again. Thank you!

Customer awarded 5 stars.

Very professional and personal service

This is the third time I have used your service. As my order will not take place until the 28th I cannot comment on that one as yet. However based on the first two I am confident of the same quality and service. Good quality and service has it's own rewards..five people I have recommended you to have been just as impressed and satisfied as I have been.. Kind Regards Irene Fallon Australia

I didn't see the flowers but I got told by my friend that the flowers were beautiful for her father in laws fundrel. Her husband & her were overwhelmed with them and the message on the card. Thankyou so much baytree for making them so special xxx

Thank you so much for delivering a stunning basket of flowers - the autumn colours were absolutely beautiful, the flowers were fresh, & they were delivered in the morning as requested - couldn't ask for more!

Thank you. The flowers arrived early in the day and were beautiful by all accounts. Great service.

Thank for delivering bouquets to my mum and mother-in-law for Mothers Day, they were both delighted with their flowers . I would like to thank you for the speedy service on what must have been an exceptionally busy time. Well done to everyone.

Very fresh flowers, quick professional delivery, defanatly use them again, inter flora don't come close.