---
Flowers by Wendy
Oakdene , Station Rd, Stogumber, Taunton, TA4 3TQ, UK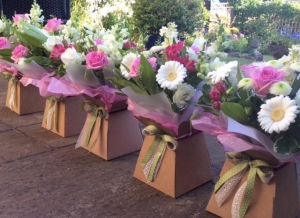 Address:
Oakdene , Station Rd,
Stogumber ,
Taunton ,
TA4 3TQ
About Flowers by Wendy:
Buy flowers online, we look forward to receiving your flower order. Flowers by Wendy in Stogumber are qualified florists. We are committed to providing superb customer service top quality flowers for individuals and businesses in Stogumber, Taunton area.
Opening Times:
Mon

9am - 5pm

Tue

9am - 5pm

Wed

9am - 5pm

Thu

9am - 5pm

Fri

9am - 5pm

Sat

9am - 2pm

Sun

Closed
We deliver flowers to:
Abbey
Adsborough
Adscombe
Aisholt
Aley
Allerford
Alstone
Andersea
Angersleigh
Appledore-nr-Burlescombe
Ash Priors
Ash Thomas
Ashbeer
Ashbrittle
Ashcombe Park
Ashculme
Ashill
Ashill
Ashwell
Athelney
Ayshford
Badger Street
Bagley Green
Bampton
Bankland
Barrington
Barry Island
Bason Bridge
Batch
Bathpool
Batsworthy
Batten's Green
Battleton
Bawdrip
Beam Bridge
Beer Crocombe
Beetham
Beggearn Huish
Berrow
Bickenhall
Bickleigh-nr-Tiverton
Bicknoller
Biddisham
Bilbrook
Bincombe
Bindon
Birchwood
Biscombe
Bishop's Hull
Bishops Lydeard
Bishopswood
Black Dog
Blackborough
Blackford
Blackmoor
Blackwater
Blagdon Hill
Bleadon
Blindmoor
Blue Anchor
Bodmiscombe
Bolham
Bolham Water
Borough Post
Bossington
Bottreaux Mill
Bradfield
Bradford-on-Tone
Bradney
Brandish Street
Bratton
Brean
Brent Knoll
Bridgetown
Bridgwater
Brithem Bottom
Broadway
Brockwell
Brompton Ralph
Brownheath
Brushford
Buckland St Mary
Budleigh
Burlescombe
Burlinch
Burnworthy
Burrow
Burrowbridge
Burton-nr-Kilton
Bury
Bussex
Butterleigh
Cad Green
Calverleigh
Canonsgrove
Capland
Capton
Carhampton
Carlingwark
Castle
Chaffcombe
Chalkway
Chapel Cleeve
Chapel Leigh
Chard
Chardleigh Green
Cheddon Fitzpaine
Chedzoy
Chelmsine
Chelston
Chelston Heathfield
Chettiscombe
Chevithorne
Chidgley
Chilcombe
Chilton Polden
Chilton Trinity
Chipstable
Christon
Churchinford
Churchstanton
Churchtown
Clarence Park
Clatworthy
Clavelshay
Clayhanger
Clayhanger
Clayhidon
Codsend
Coldharbour
Coleford Water
Collipriest
Combe Florey
Combe St Nicholas
Combwich
Comeytrowe
Compass
Coombe-nr-Tiverton
Coombe-nr-Taunton
Coppleham
Corfe
Cossington
Cote
Cothelstone
Cotteylands
Coursley
Courtway
Cove
Cowleymoor
Craddock
Crawley
Creacombe
Creech Heathfield
Creech St Michael
Cricket Malherbie
Cricket St Thomas
Crimchard
Crock Street
Crowcombe
Cruwys Morchard
Cudworth
Cullompton
Culm Davy
Culmstock
Curland
Curland Common
Curload
Curry Mallet
Cushuish
Cutcombe
Cuttiford's Door
Daw's Green
Dillington
Dipford
Dodington
Dommett
Doniford
Donyatt
Doverhay
Dowlish Ford
Dowlish Wake
Down End
Dowslands
Duddlestone
Dulverton
Dunball
Dunkeswell
Dunster
Dunwear
Durleigh
Durston
Dyche
East Aberthaw
East Anstey
East Bower
East Brent
East Butterleigh
East Combe
East Huntspill
East Knowstone
Eastbrook
Eastertown
Eastover
Ebdon
Edgcott
Edington
Edingworth
Edithmead
Elborough
Elworthy
Escott
Exebridge
Exford
Exton
Feltham
Fennington
Fiddington
Firepool
Fitzhead
Five Bells
Fivehead
Flaxpool
Font-y-gary
Ford
Ford Street
Fordgate
Forton
Four Elms
Fowler's Plot
Friarn
Frieze Hill
Fulwood
Furnham
Fyfett
Galmington
Garlandhayes
Golsoncott
Goosenford
Gotton
Green Gate
Greenham
Greenway
Greylake
Hackness
Haines Hill
Halberton
Halcon
Halse
Halsway
Ham
Hamp
Handy Cross
Hare
Hartford
Hartswell
Hastings
Hatch Beauchamp
Hatch Green
Hawkcombe
Hawkridge
Haydon
Haygrass
Haymoor End
Heale
Heathfield
Hedging
Helland
Hemyock
Henlade
Highbridge
Higher Durston
Higher Street
Higher Town
Higher Vexford
Higher Wambrook
Hillcommon
Hillend
Hillmoor
Hoccombe
Hockholler
Hockholler Green
Hockworthy
Holcombe Rogus
Holford
Hollis Green
Holman Clavel
Holnicote
Holway
Holywell Lake
Horner
Hornsbury
Horsey
Horton
Horton Cross
Houndsmoor
Howleigh
Howley
Huish Champflower
Hungerford
Huntham
Huntscott
Huntsham
Huntspill
Huntstile
Huntworth
Hutton
Icelton
Ilford
Ilminster
Ilton
Isle Abbotts
Isle Brewers
Keenthorne
Kenny
Kentisbeare
Kewstoke
Kibbear
Kilton
Kilve
Kingsbridge
Kingstone
Kingswood
Knapp
Knightcott
Knighton
Knott Oak
Knowle
Knowle
Knowle St Giles
Knowstone
Langaller
Langham
Langley
Langley Marsh
Lawford
Leighland Chapel
Ley
Lillesdon
Lilstock
Liney
Listoke
Little Hill
Littleborough
Locking
Lower Aisholt
Lower Canada
Lower Durston
Lowton
Loxbeare
Loxton
Luccombe
Luckwell Bridge
Lurley
Luxborough
Luxton
Lydeard St Lawrence
Lydmarsh
Lympsham
Lynch
Lyng
Lyngford
Mackham
Madford
Manley
Mark
Mark Causeway
Marsh
Marsh Mills
Marsh Street
Maundown
Meare Green
Melcombe
Merridge
Middle Burnham
Middle Green
Middle Luxton
Middle Stoford
Middlezoy
Millhayes
Millmoor
Milton
Milverton
Minehead
Mogworthy
Monksilver
Monkton Heathfield
Moolham
Moorhayne
Moorland
Morebath
Nether Stowey
Netherclay
Nethercott
New England
Newcott
Newport
Newton
Newtown
Nicholashayne
Nimmer
Nomansland
North Curry
North End
North End
North Newton
North Petherton
Northay
Northcott
Northfield
Northgate
Northmoor Corner
Northmoor Green
Northway
Northwick
Norton
Oakford
Oakfordbridge
Oareford
Oath
Obridge
Old Cleeve
Old Way
Oldmixon
Oldways End
Orchard Portman
Othery
Otterford
Outwood
Over Stowey
Paintmoor
Parchey
Park End
Pathe
Pawlett
Pawlett Hill
Payton
Peasmarsh
Pennymoor
Perry Green
Pickney
Pightley
Pinksmoor
Pitminster
Pitsford Hill
Plainsfield
Pleamore Cross
Pond Close
Ponsford
Poole
Pooltown
Porlock
Porlock Weir
Porlockford
Porthkerry
Poughill
Prescott
Preston Bowyer
Priorswood
Puckington
Puddington
Puddlebridge
Pudleigh
Puriton
Purn
Pyleigh
Pyrland
Queen Dart
Rackenford
Radlet
Rapps
Red Ball
Redlane
Rhode
Rhoose
Rich's Holford
Roachill
Roadwater
Rock
Rockwell Green
Rodhuish
Rook's Nest
Rooks Bridge
Rosemary Lane
Rowbarton
Rowford
Royston Water
Ruggin
Ruishton
Rumwell
Saint Hill
Sampford Arundel
Sampford Brett
Sampford Moor
Sampford Peverell
Sawyer's Hill
Scrapton
Screedy
Sea
Sellick's Green
Selworthy
Seven Ash
Shearston
Sheldon
Sherford
Shillingford
Shiplate
Shopnoller
Shoreditch
Sidbrook
Silver Street
Simonsburrow
Slade
Slape Cross
Slough Green
Smeatharpe
Smithincott
South Down
South Hill
Southtown
Southwick
Spaxton
Splatt
St Decumans
St George's Well
St Georges
St Michael Church
Stamborough
Staple Cross
Staple Fitzpaine
Staple Lawns
Staplehay
Stapley
Stathe
Stawell
Steart
Stenhill
Stentwood
Stewley
Sticklepath
Stocklinch
Stoford Water
Stogumber
Stogursey
Stoke St Gregory
Stoke St Mary
Stoneyford
Stoodleigh
Stopgate
Street
Street Ash
Stretch Down
Stretcholt
Stringston
Sutton Mallet
Sweethay
Swell
Sydenham
Tacker Street
Tangier
Tarnock
Templeton
Templeton Bridge
Terhill
The Knap
Thornfalcon
Thorngrove
Thurlbear
Thurloxton
Tiverton
Tivington
Tivington Knowle
Tolland
Torre
Toulton
Treble's Holford
Treborough
Triscombe
Trull
Tuckerton
Uffculme
Ullcombe
Upham
Uphill
Uphill Manor
Uplowman
Upottery
Upper Canada
Upper Cheddon
Upper Fivehead
Vellow
Vole
Voxmoor
Waddicombe
Wadeford
Walford
Walpole
Walrow
Wambrook
Washfield
Washford
Washford Pyne
Watchet
Watchfield
Waterrow
Way Village
Way Wick
Weacombe
Webbington
Weekmoor
Well Town
Wellington
Wellsprings
Wembdon
West Aberthaw
West Anstey
West Bagborough
West Buckland
West Hatch
Westford
Westleigh
Westonzoyland
Westowe
Westown
Westport
Wheddon Cross
Whipcott
White Ball
White Cross
Whitefield
Whitehall
Whitestaunton
Whitmoor
Whitnage
Whitnell
Whitney Bottom
Wick
Wick St Lawrence
Willand
Willand
Willand Moor
Willett
Willhayne
Williton
Wilton
Wiltown
Wiltown
Windmill Hill
Windwhistle
Winsford
Winter Well
Winterhay Green
Witheridge
Withiel Florey
Withleigh
Withycombe
Withypool
Wiveliscombe
Wonderstone
Wood
Woodcombe
Woodford
Woodgate
Woodhill
Woodlands
Woodram
Woodspring Priory
Woolavington
Woolfardisworthy
Woolmersdon
Woolston
Woolvers Hill
Wootton Courtenay
Worle
Worlebury
Worthy
Wrangway
Wrantage
Wreath
Yarcombe
Yarde
Yarrow
Yeo Mill
Yodercott
Overview for Flowers by Wendy