---
Eufloria Flowers of Thirsk
2 Finkle Street, Thirsk, YO7 1DA, UK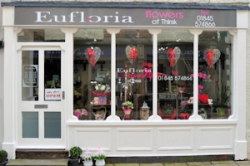 Address:
2 Finkle Street,
Thirsk ,
YO7 1DA
About Eufloria Flowers of Thirsk:
Eufloria Flowers is a floral design studio offering a high class bespoke local and international floristry service covering all styles from the traditional to the contemporary and catering for all your floral needs.
Opening Times:
Mon

9:30am - 5pm

Tue

9:30am - 5pm

Wed

9:30am - 5pm

Thu

9:30am - 5pm

Fri

9:30am - 5pm

Sat

9:30am - 5pm

Sun

Closed
We deliver flowers to:
Ainderby Quernhow
Ainderby Steeple
Aiskew
Aldborough
Aldfield
Aldwark
Alne
Alne Station
Ampleforth
Asenby
Azerley
Bagby
Bagby Grange
Baldersby
Baldersby St James
Bedale
Binsoe
Birdforth
Bishop Monkton
Bishopton
Boltby
Boroughbridge
Borrowby
Brafferton
Brandsby
Branton Green
Bridge Hewick
Brompton
Bullamoor
Burneston
Burrill
Byland Abbey
Camp Hill
Carlton Husthwaite
Carlton Miniott
Carthorpe
Catton
Cold Kirby
Copgrove
Copt Hewick
Cowesby
Coxwold
Crakehill
Crayke
Crosby Court
Cross Holme
Cross Lanes
Cundall
Dalton-nr-Thirsk
Danby Wiske
Deighton
Dishforth
Easingwold
East Harlsey
Ellerbeck
Exelby
Fangdale Beck
Fawdington
Felixkirk
Firby
Flawith
Foxton
Galphay
Gatenby
Gilling East
Grafton
Great Crakehall
Great Fencote
Great Langton
Great Ouseburn
Grewelthorpe
Hawnby
Heathwaite
Helmsley
Helperby
High Kilburn
Holme
Howe
Husthwaite
Hutton Bonville
Hutton Conyers
Hutton Sessay
Ingerthorpe
Ingleby Arncliffe
Ingleby Cross
Kepwick
Kilburn
Kingstonia
Kirby Knowle
Kirby Sigston
Kirby Wiske
Kirkbridge
Kirkby Fleetham
Kirkby Hill
Kirkby Malzeard
Kirklington
Knayton
Langthorne
Langthorpe
Leake
Leeming
Leeming Bar
Little Crakehall
Little Fencote
Littlethorpe
Londonderry
Lower Dunsforth
Marton
Marton-le-Moor
Masham
Maunby
Melmerby
Mickley
Middleton Quernhow
Milby
Minskip
Moor End
Moor End Field
Morton-on-Swale
Murton Grange
Myton Hall
Myton-on-Swale
Nether Silton
New Thirsk
Newby
Newby Wiske
Newsham
Norby
North Kilvington
North Lees
Northallerton
Norton-le-Clay
Nosterfield
Nunwick
Old Byland
Old Thirsk
Oldstead
Osmotherley
Oswaldkirk
Oulston
Over Silton
Pickhill
Pockley
Rainton
Raskelf
Rievaulx
Roecliffe
Romanby
Sandhutton
Scawton
Scruton
Sessay
Sharow
Sinderby
Skelton on Ure
Skipton-on-Swale
Snape
South Kilvington
South Otterington
Sowerby
Sproxton
Staveley
Streetlam
Studley Roger
Studley Royal
Sutton Howgrave
Sutton-under-Whitestonecliffe
Swainby
The Grange
Theakston
Thimbleby
Thirlby
Thirsk
Tholthorpe
Thormanby
Thornborough
Thornton Watlass
Thornton-le-Beans
Thornton-le-Moor
Thornton-le-Street
Thrintoft
Tollerton
Topcliffe
Upper Dunsforth
Upsall
Ure Bank
Warlaby
Wass
Wath
Welbury
Well
West Harlsey
Winksley
Winton
Yafforth
Yearsley
Youlton
Where to find us:
More About Eufloria Flowers of Thirsk & History
We are a luxury boutique florist that is unmistakenly recognised for its high-end and unique approach to the art of floristry for special occasions and everyday flowers alike.
Specialties
We are meticulous in our care and conditioning of our fresh flowers to maximise their vase life for our customers.
Our staff are ever so friendly and really go that extra mile to help our customers.
Location & Delivery
Located in the heart of Thirsk's bustling market town, we cater for weddings, special events, funerals, parties and those occasions where only flowers will do. We have various deliveries throughout a week and only use the best quality flowers.
Overview for Eufloria Flowers of Thirsk
All reviews for Eufloria Flowers of Thirsk
Good communication with florist on a couple of minor issues before delivery. Recipient very pleased with quality and presentation of flowers. I would use them again.

Amazing service and beautiful flowers ... thank you!??????

Brilliant service from Clare. Despite being down a member of staff and very bad weather, she still managed to get the flowers to my mother in law the same day. The flowers were lovely. Thank you

My mother in law was over the moon with her beautiful bouquet of flowers. The arrangement was perfect. <br/>I ordered the same bouquet for my mum from another florist and all I can say was that my mother n law definitely got the better deal from Eufloria. <br/>I highly recommend Eufloria and will be using them again in the future. <br/>Thank you very much &#55357;&#56832;