The bloomin' blooms aren't blooming!
Image: ukinbound
It was a plan conceived with honourable intentions. A novel idea forming part of a smorgasbord of official Platinum Jubilee celebrations. The location, Tower Of London. More specifically, the now liquid-free moat at the Tower Of London. The event I'm referring to here is the Jubilee Superbloom. It's a grandiose title for sure, so what's it all about?
To quote the powers-that-be, the Superbloom is a 'walk-through naturalistic landscape'. Twenty million seeds have been planted around a series of pathways which now populate the moat. As well as offering a stunning floral vista, the whole installation will provide an additional urban home for pollinators, insects and birds alike.
Anybody who got to see the poppy installation at this same venue back in 2014 could not have failed to have been moved. It was a beautiful and fitting memorial with almost a million poppies representing British and Colonial lives lost during the first world war.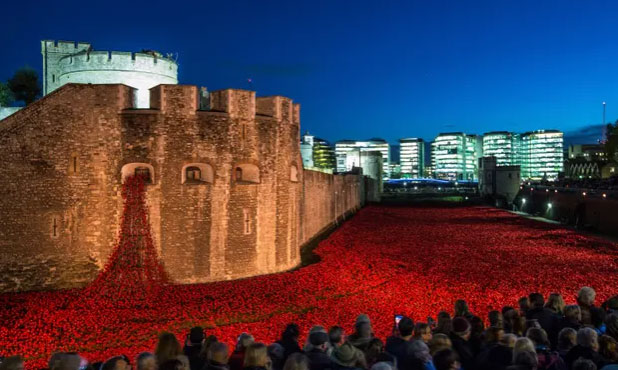 The Guardian: An organic living piece' … Blood Swept Lands and Seas of Red, Paul Cummins and Tom Piper's installation at the Tower of London. Photograph: Dan Kitwood/Getty Images
What's important to note here is that whilst all the seeds used at Superbloom are very-much real, each of the poppies was an individual sculpture. It's this distinction that's causing consternation at Superbloom HQ. The bloomin' blooms aren't blooming!
Drier than average weather this year means that all the seeds are considerably behind their predicted growth schedule. What we currently have is a site that isn't 'showcasing its full potential' shall we say. As it stands, I can't help but get a reminder of the time, at school, I was encouraged to grow my own cress. Whilst I may have been thrilled with the outcome of my first foray into seed planting, I'm quietly confident that industrial-scale cress farm was not the vibe that the Jubilee overlords were striving for!
But wait, what's this? It turns out that the Superbloom extravaganza is not just about the sights and the smells. It has another ace up its sensory sleeve. Your leisurely stroll along the pathways is set to be accompanied by music. That's right, a classical piece has been commissioned and composed specifically for this purpose. Bearing in mind the soundtrack is exclusively classical, I wonder if they could have engaged a touch more variety with the musical genres.
Surely the organisers have missed a trick here. Unquestionably, they needed music by Queen. How about 'The show must go on (despite the refusal of our plants to bloom)'? A Jubilee remix you could say.
Anyway, despite this oversight, all is not lost. It turns out that the installation has another redeeming feature. This takes the form of a giant slide, I repeat, a giant slide. Upon entry, if you don't fancy the stairs, hop onto the silver chute and make a real entrance!
With all this talk of royalty and giant slides, it's impossible not to have flashbacks to 1989. I'm talking about It's A Royal Knockout. Surely that was just a dream? It can't have actually taken place. I've double-checked, trust me, it did! For the lucky few who never experienced the episode in question, It's A Royal Knockout was a celebrity version of the classic TV show. The original show was a ratings hit. Essentially it consisted of teams, dressed in oversized costumes, falling over rather a lot.
Credit: Youtube / The Sun
Well, Prince Edward decided to rope-in a boatload of celebrities and bring the show back. Four teams were assembled and captained by Edward, Anne, Andrew and Fergie. What followed was a surreal sixty minutes of pure, unadulterated awkwardness. It's tough to pick a standout moment but seeing Tom Jones throw ham at Christopher Reeve whilst John Travolta looked on in a pair of tights, has to be up there. Now there's a sentence you don't often write!
Anyway, it would be churlish of me to leave this here. The Superbloom isn't solely about the Jubilee weekend, far from it. It's about the whole summer. Countless dedicated volunteers playing a part. Each month will afford a different experience as the colours and smells evolve. It's sure to provide a stunning contrast to its Tower Of London backdrop and I'm certain it will bring a lot of people immense pleasure.
One final point, and for the avoidance of doubt, entry by slide is optional!