Valuable tips to help you pick wedding flowers
Flowers are vital to any wedding - they serve as the decor's central theme, adding life and colour to the entire event! Getting flowers arranged for weddings when done properly, is very rewarding and can make the day all the more memorable.
However, it can also be a daunting task - especially when you have no idea where to start. Down below, we've included a little bit about wedding day flowers, as well as some valuable tips to help you pick the right ones for the day.

History and Traditions of Wedding Flowers
The history of wedding flowers goes all the way to the ancient Greeks, as far back as 500 BCE. They were known for adorning their wedding ceremonies with olive branches and herbs, in honour of the goddess Hera.
The Romans had similar traditions involving the weaving of greenery and blooms in garlands and crowns - which were then scented with orange blossoms, roses, thyme, and basil. Besides honouring the gods, these flowers were also a symbol of protection, fertility, and good fortune.
Fast forward to the Victorian era, when Queen Victoria adorned her ceremony with cut and blooming flowers. Her crown of orange blossoms was a symbol of purity, whist her bouquet included myrtle, which represents passion, beauty, and fidelity. Most of this tradition still stands true today.
How to Pick the Right Wedding Flowers
Choosing the perfect wedding day flowers can get overwhelming. To save time and stress, there are a few things you can do to make it easier.
Consider the style of your wedding before reaching out to a florist. What comes to mind when you picture the big day? A good idea is to ask your family and friends for recommendations. If you ask people that are newlywed, you can get an idea of a florist's most recent work. Even if you don't know anyone that has just got married, they may have used a good florist for a different occasion. The prices florists charge differ from one another. Make a detailed list to ensure you select the one that fits your style and budget. Show your florist samples of the floral arrangements you like - you can even show them the swatch of the bridesmaids' gown. Be clear with your florist early on about how much you can afford, preferred colours, and the ceremony's season.
Finally, don't forget to give more meaning to your wedding flowers by adding a personal touch to the arrangement.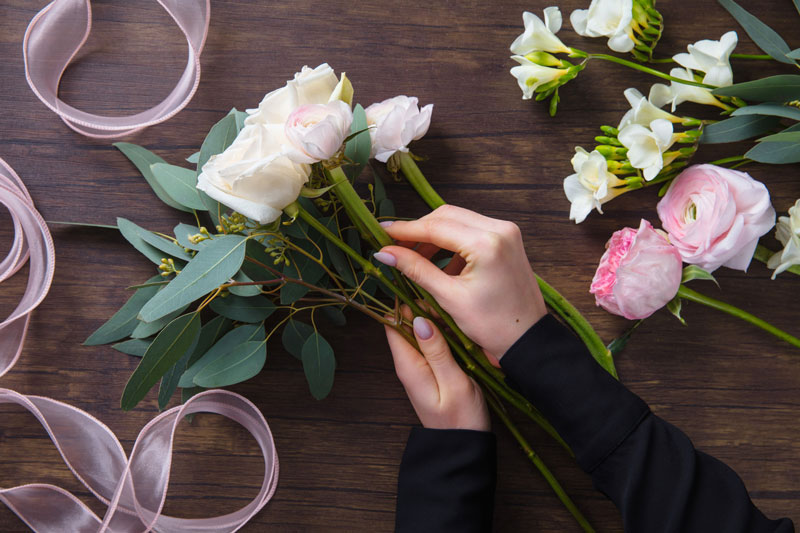 An easy way to get the flowers you want is by searching via Direct2Florist. We connect you with florists in your area, that can help you send flowers to the blushing bride and groom, as well as allowing you to find the perfect wedding arrangements.
Popular Types of Wedding Flowers
Need some inspiration for your wedding flowers? We've listed some of our favourite wedding day flowers ideas that can make your big day all the more special.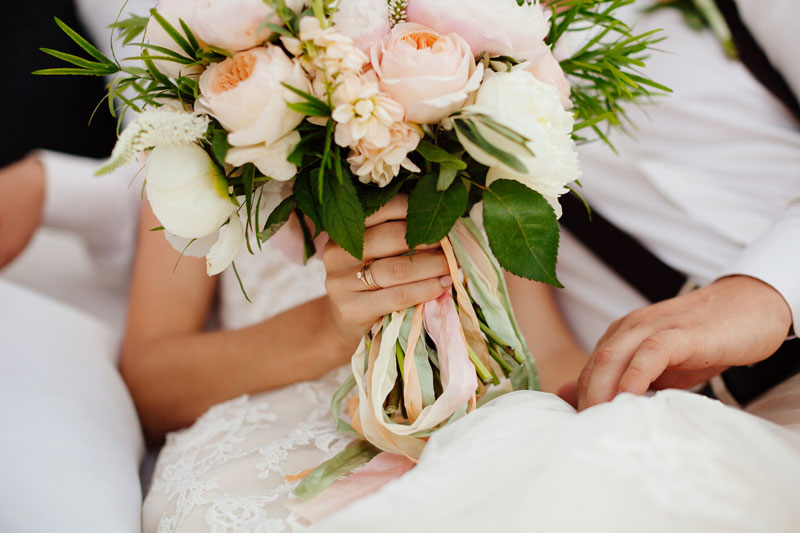 Peonies
Peonies easily top the list as the most popular wedding flower. They symbolize romance, compassion, and prosperity and are highly coveted by many brides - they look lovely in a bouquet!
Garden Roses
Garden roses are ideal for the perfect bridal bouquet. They are quite different from standard roses, due to the breeding method that makes their petal count denser and typically more fragrant.
Sweet Peas and Anemones
Sweet peas and anemones are also commonly used for weddings. This is thanks to their lovely fragrance and unique colours.
Lily of the Valley And Dahlia
Finally, this list wouldn't be complete without the mention of lily of the valley and dahlia, both elegant flowers that are well sought after.