---
The Flower Shop of Cheadle
5 East Bank Ride, Forsbrook, Stoke on Trent, ST11 9DS, UK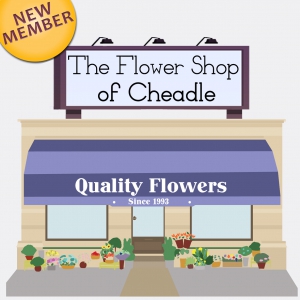 Address:
5 East Bank Ride,
Forsbrook ,
Stoke on Trent ,
ST11 9DS
About The Flower Shop of Cheadle:
Here at The Flower Shop of Cheadle we deliver fresh flower arrangements for birthdays, anniversaries and funerals throughout Forsbrook area for more information please visit our website; www.theflowershopofcheadle.co.uk or call Lucy direct on 07506961230.
Opening Times:
Mon

9am - 5pm

Tue

9am - 5pm

Wed

9am - 5pm

Thu

9am - 5pm

Fri

9am - 5pm

Sat

9am - 2pm

Sun

Closed
We deliver flowers to:
Abbey Green
Abbey Hulton
Abbots Bromley
Acres Nook
Acton
Acton Trussell
Adderley Green
Admaston
Alsagers Bank
Alstonefield
Alton
Amerton
Apedale
Armsdale
Armshead
Ash Bank
Ashley
Aspley
Aston-by-Doxey
Aston-By-Stone
Audley
Back o'th' Brook
Baddeley Edge
Baddeley Green
Bagnall
Balance Hill
Baldwin's Gate
Ball Green
Ball Haye Green
Bank Top
Bar Hill
Barlaston
Barnfields
Basford
Basford Green
Baswich
Beamhurst
Beamhurst Lane
Beasley
Beech
Beechcliff
Bentilee
Berry Hill
Biddulph
Biddulph Moor
Bignall End
Billington
Birch Cross
Birchall
Birchendale
Birches Head
Bishop's Offley
Bishton
Blackbrook
Blackshaw Moor
Blakeley Lane
Blank Bank
Blore
Blount's Green
Blurton
Blythe Bridge
Blythe Marsh
Boon Hill
Booth
Boothen
Bottom House
Boundary
Bowers
Braddocks Hay
Bradeley
Bradley in the Moors
Bradnop
Bradshaw
Bradwell
The Brampton
Bramshall
Brazenhill
Broad Heath
Broad Meadow
Brockton
Brocton
Bromley Hall
Bromley Wood
Brookhouses
Broomyshaw
Broughton
Brown Edge
Brown Lees
Brownlow Heath
Bucknall
Burslem
Burston
Burton Manor
Burybank
Butt Lane
Butter Bank
Butters Green
Butterton
Calton
Castletown
Cat's Hill Cross
Cats Edge
Cauldon
Cauldon Lowe
Caverswall
Cellarhead
Chapel Chorlton
Charnes
Chatcull
Chatterley
Cheadle Park
Chebsey
Checkley
Cheddleton
Cheddleton Heath
Chell Heath
Chesterton
Church Lawton
Church Leigh
Church Mayfield
Churnet Grange
Clayton
Cloud Side
Clough Hall
Coalpit Hill
Cobridge
Coldeaton
Coldmeece
Colton
Colwich
Combridge
Congleton Edge
Consall
Cookshill
Coombesdale
Copmere End
Coppenhall
Cornhill
Cotes
Cotes Heath
Coton
Coton Clanford
Coton Hayes
Coton Hill
Cotton
Cotwalton
Crackley
Crakemarsh
Cranberry
Creighton
Cresswell
Creswell
Cross Heath
Crossgate
Croxden
Croxton
Croxtonbank
Dagdale
Dales Green
Dapple Heath
Dayhills
Deadman's Green
Denford
Denstone
Derrington
Dilhorne
Dimsdale
Dods Leigh
Doveridge
Doxey
Draycott in the
Dresden
Drointon
Dunkirk
Dunstal
Dunwood
Eccleshall
Ecton
Ellastone
Ellenhall
Endon
Endon Bank
Etchinghill
Etruria
Fairoak
Farley
Fegg Hayes
Fenton
Fenton Low
Field
Finney Green
Florence
Fole
Ford
Ford Green
Forebridge
Forsbrook
Foxley
Foxt
Fradswell
Freehay
Froghall
Fulford
Gallows Green
Garmelow
Garshall Green
Gayton
Gerrard's Bromley
Gillow Heath
Gnosall
Godleybrook
Goldenhill
Gorsty Hill
Gratwich
Great Bridgeford
Great Chell
Great Gate
Great Haywood
Greenhead
Grindley
Grindon
Hall Green
Halmer End
Hanchurch
Hanford
Hanley
Hansley Cross
Hardings Wood
Haregate
Harper's Gate
Harriseahead
Hartley Green
Hartshill
Hartwell
Haughton
Hawthorns
Hayes
Hazles
Hazlescross
Heatley
Heaton
Heighley
Hem Heath
Heron Cross
High Offley
Highfields
Highlanes
Hightown
Hilderstone
Hill Chorlton
Hill Somersal
Hixon
Hodgefield
Hollington
Hollins
Hollybush
Holmcroft
Holt Hill
Hope
Hopedale
Hopton
Hopton Heath
Horse Bridge
Horton
Hulme
Hulme End
Huntley
Hyde Lea
Ilam
Ingestre
Ipstones
Jack Hayes
Keele
Kerry Hill
Kidsgrove
Kingsley
Kingsley Holt
Kingsley Moor
Kingstone
Knenhall
Knightley
Knightley Dale
Knowl Bank
Knowl Wall
Knutton
Knypersley
Lane Ends
Lask Edge
Lawnhead
Lea Heath
Leadendale
Leek
Leekbrook
Leycett
Leys
Light Oaks
Lightwood
Little Bridgeford
Little Chell
Little Haywood
Little Ingestre
Littleworth
Long Compton
Longbridge Hayes
Longport
Longsdon
Longshaw
Longton
Lowe Hill
Lower Elkstone
Lower Ellastone
Lower Hatton
Loxley Green
Madeley
Madeley Heath
Maer
Marchington
Marchington Woodlands
Marsh Green
Marston Montgomery
May Bank
Mayfield
Meaford
Meerbrook
Meir
Meir Heath
Middle Cliff
Middle Madeley
Middle Mayfield
Middleport
Middleton Green
Miles Green
Milford
Milldale
Millmeece
Milton
Milwich
Mobberley
Moddershall
Moneystone
Moor Green
Morridge Side
Morrilow Heath
Moss Pit
Mossgate
Mount Pleasant
Mount Pleasant
Mow Cop
Netherland Green
New Street
Newborough
Newchapel
Newfield
Newlands
Newpool
Newstead
Newton
Newton Hurst
Newtown
Norbury
Normacot
Northwood
Norton Bridge
Norton Green
Norton-in-the-Moors
Oak Hill
Oakamoor
Oaks Green
Offleyhay
Offleymarsh
Offleyrock
Oldfurnace
Onecote
Oulton Grange
Oulton Heath
Oultoncross
Outlands
Overmoor
Overton
Oxford
Packmoor
Painleyhill
Palmer Moor
Park End
Parkside
Pasturefields
Penkhull
Pershall
Pitts Hill
Podmore
Poolend
Poolfold
Porthill
Potter Somersal
The Potteries
Prestwood
Queensville
Quixhill
Radmore Wood
Rakes Dale
Rakeway
Ramshorn
Ranton
Ranton Green
Ravenscliffe
Red Bull
Red Street
Redhill
Rickerscote
Ridgeway
Rising Brook
Robin Hill
Rocester
Roche Grange
Rock End
Rode Heath
Roston
Rough Close
Roughcote
Rowley Park
Rownall
Rudyard
Rushton Spencer
Ryecroft Gate
Salt
Sandford Hill
Sandon
Sandonbank
Sandyford
Saverley Green
Scholar Green
Scot Hay
Scounslow Green
Seabridge
Seighford
Shaffalong
Shallowford
Sharpley Heath
Shawfield
Shelton
Shelton under Harley
Shraleybrook
Shut Heath
Sideway
Sidway
Silverdale
Slindon
Smallrice
Smallthorne
Snelston
Sneyd Green
Somersal Herbert
Spath
Springfields
Stableford
Stadmorslow
Stallington
Standon
Stanfield
Stanley
Stanley Moor
Stanshope
Stanton
Stockton Brook
Stockwell Heath
Stoke-upon-Trent
Stone
Stone Heath
Stonefield
Stonehouses
Stowe-by-Chartley
Stramshall
Stubwood
Sturbridge
Sugnall
Swinscoe
Swynnerton
Talke
Talke Pits
Teanford
The Bank
The Bents
The Blythe
The Handfords
The Heath
The Hollands
The Marsh
The Marsh
The Rookery
The Rowe
The Shruggs
The Toft
Thorncliffe
Thorpe
Threapwood
Threelows
Thurlwood
Thurvaston
Tithebarn
Tittensor
Tixall
Tompkin
Toot Hill
Totmonslow
Town Head
Townend
Townsend
Trent Vale
Trentham
Trinity Fields
Tunstall
Turnhurst
Ubberley
Upper Cotton
Upper Elkstone
Upper Ellastone
Upper Hatton
Upper Hulme
Upper Leigh
Upper Nobut
Uttoxeter
Waggersley
Wain Lee
Waldley
Walford
Walton
Walton-on-the-Hill
Warslow
Washerwall
Waterfall
Waterhouses
Weeping Cross
Wereton
Werrington
West Broughton
Westlands
Weston
Weston Coyney
Wetley Rocks
Wetton
Wetwood
Whitecross
Whitehill
Whitemore
Whitgreave
Whitley Heath
Whitmore
Whittington
Wigginstall
Wildwood
Willslock
Winkhill
Winnothdale
Withington
Withystakes
Wolstanton
Wood Gate
Wood Lane
Woodcock Heath
Woodhouse Green
Woodseaves
Woodwall Green
Wootton
Woottons
Yarnfield
Stoke
Where to find us:
Specialties
Here at The Flower Shop we focus on the day to day running of a florist and it is because of that we do not have the time to Wedding Flowers, we do instead recommend a local florist who specialises in nothing but bespoke wedding flowers.
We provide support and the very best quality of flowers for you during difficult times. We have developed our very own, easy to use ordering system which simply requires three choices for you: Style of Arrangement, Colour Choice and if you have any special Flower Requirements.
Location & Delivery
We deliver fresh flower arrangements for birthdays, anniversaries and funerals throughout Forsbrook area.
Overview for The Flower Shop of Cheadle
All reviews for The Flower Shop of Cheadle
My Auntie loves her flowers and I was really impressed with the service. Receiving pictures off the florist of the flowers that had been delivered was a lovely touch. It???s good to be able to support a local business whilst still having the convenience of ordering on line. I definitely recommend this florist and will be using them again.

I saw a photograph of the flowers and they are amazing, they were also delivered AM as requested . Thank you very much, I am really overjoyed with them. Thanks again, Carol Bridgett
Forget Me Nots Florists in Cheadle
Added on 12/03/2018by The Flower Shop of Cheadle