---
THE BLOOMING BEARS
55 Bath Rd, Cheltenham, GL53 7HG, UK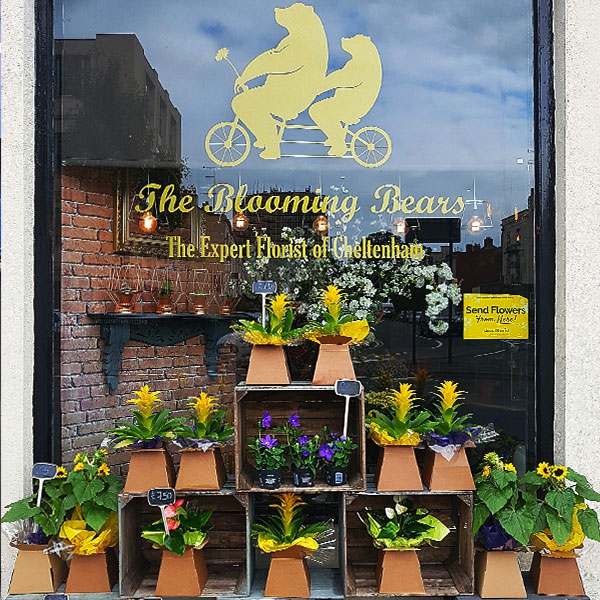 Address:
55 Bath Rd,
Cheltenham ,
GL53 7HG
About THE BLOOMING BEARS:
We are a local florist in Cheltenham, specialising in Wedding,funeral and corporate work, but also cater for every day occasions.
Opening Times:
Mon

8:30am - 5:30pm

Tue

8:30am - 5:30pm

Wed

8:30am - 5:30pm

Thu

8:30am - 5:30pm

Fri

8:30am - 5:30pm

Sat

8:30am - 5:30pm

Sun

Closed
We deliver flowers to:
Abbeydale
Alderton
Alderton Fields
Alstone
Andoversford
Apperley
Arle
Ashchurch
Ashleworth
Aston Cross
Aston on Carrant
Aylworth
Badgeworth
Bamfurlong
Barnwood
Barrow
Barrow Wake
Barton
Battledown
Battlescombe
Beckford
Bengrove
Benhall
Bentham
Birdlip
Bishop's Norton
Boddington
Bondend
Bournside
Bredon
Bredon's Hardwick
Brimpsfield
Brockhampton
Brockworth
Brookthorpe
Bushley
Bushley Green
Cassey Compton
Caudle Green
Chaceley
Chaceley Hole
Chaceley Stock
Chargrove
Charlton Abbots
Charlton Kings
Charlton Park
Chedworth
Chedworth Laines
Churchdown
Claydon
Cleeve Hill
Coberley
Cockleford
Cold Elm
Colesbourne
Compton Abdale
Conderton
Coney Hill
Corse Lawn
Cowley
Cranham
Cutsdean
Deerhurst
Deerhurst Walton
Didbrook
Dixton
Down Hatherley
Dumbleton
Duntisbourne Abbots
Duntisbourne Leer
Duntisbourne Rouse
Edgeworth
Elkstone
Elmbridge
Elmstone Hardwicke
Fairview
Farmcote
Fiddington
Fiddler's Green
Footbridge
Ford
Forthampton
Foxcote
Frampton Court
Golden Valley
Gotherington
Grafton
Green Street
Greet
Gretton
Gretton Fields
Guiting Power
Hailes
Ham
Hampen
Hampnett
Hardwicke
Hartpury
Hasfield
Hatherley
Hawling
Hayden
Hazelton
Hempsted
Henley
Hester's Way
High Brotheridge
Highnam
Highnam Green
Hilcot
Hill End
Homedowns
Horsepools
Hucclecote
Hyde
Innsworth
Jack's Green
Kemerton
Kilkenny
Kineton
Kingsditch
Kingsholm
Kinsham
Knightsbridge
Langley
Lansdown
Leckhampton
Lime Street
Linden
Linkend
Little Beckford
Little Herbert's
Long Green
Longford
Longlevens
Longridge
Longridge End
Lower Dowdeswell
Lynworth
Lypiatt
Maisemore
Marle Hill
Matson
Middle Duntisbourne
Miserden
Mitton
Moor End
Moorend
Natton
Nettleton
New Town
Newtown
Northway
Norton
Notgrove
Noverton
Oakley
Over
Overbury
Oxenton
Painswick
Pamington
Pancakehill
Paradise
Piff's Elm
Pilley
Pittville
Podsmead
Postlip
Prescott
Prestbury
Prior's Norton
Priors Park
Puckrup
Quedgeley
Rendcomb
Rowanfield
Ryeworth
Saintbridge
Salperton
Salperton Park
Sandhurst
Sandpits
Seven Springs
Sevenhampton
Shab Hill
Sheepscombe
Shipton
Shipton Oliffe
Shipton Solers
Shurdington
Shuthonger
Slades Green
Southam
Springbank
St Mark's
Stanley Pontlarge
Stanway
Staverton
Stockwell
Stoke Orchard
Stowell
Stumps Cross
Sudgrove
Swindon
Syde
Syreford
Teddington
Teddington Hands
Temple Guiting
The Camp
The Leigh
The Mythe
The Park
The Rampings
The Tynings
Througham
Tirley
Tirley Knowle
Toddington
Town Street
Tredington
Tredworth
Tuffley
Twigworth
Twyning
Twyning Green
Uckington
Upper Coberley
Upper Dowdeswell
Upper Lode
Upton St Leonards
Walham
Wallsworth
Walton Cardiff
Warden Hill
Watermead
Westmancote
Whaddon
Whiteway
Whittington
Wickridge Street
Winchcombe
Winstone
Wishanger
Withington
Wood Stanway
Woodbridge
Woodmancote
Woolridge
Woolstone
Wotton
Wymans Brook
Yanworth
Where to find us:
More About THE BLOOMING BEARS & History
We have over 10 years experience in producing breathtaking designs. We are experienced in all aspects of floral design work.
Specialties
Weddings
Funerals
Corporate
Location & Delivery
We are based in Cheltenham town centre and deliver upto a 10 mile radius
Overview for THE BLOOMING BEARS
All reviews for THE BLOOMING BEARS
Customer awarded 5 stars.

I have sent flowers to my relatives in the uk for many years and have used varies companies. This year i had left it late to order from major high street company, i found your company online and am pleased to say that both my orders to my mother in-law and sister who are both in different towns in the UK the florist i picked were Blooming Bears and Purple Violets Florist their arrangements are beautiful and have lasted. My mother in-law commented that this was the best flower delivery she had received much better than before. I will be using your website in the future. thank you. Satisfied customer