---
Sunshine Florist
1 Newbry Court, Newbry , Gillingham, Dorset, SP8 4QX, UK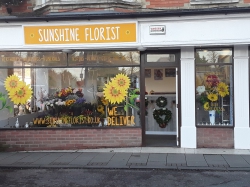 Address:
1 Newbry Court, Newbry ,
Gillingham ,
Dorset ,
SP8 4QX
About Sunshine Florist:
Sunshine Florist is a newly run flower shop in Gillingham, Dorset. A bright and vibrant shop with quality gifts and stock. Fresh and silk flowers always available. Same day delivery options available .
Opening Times:
Mon

9am - 5pm

Tue

9am - 5pm

Wed

9am - 5pm

Thu

9am - 5pm

Fri

9am - 5pm

Sat

9am - 1pm

Sun

Closed
We deliver flowers to:
Abbas Combe
Alcester
Alvediston
Ansford
Ansty
Ansty Coombe
Ashmore
Bagber
Barkers Hill
Barrow Street
Barwick
Bay
Bayford
Bedchester
Belchalwell
Belchalwell Street
Berwick St John
Berwick St Leonard
Birdbush
Bishop's Caundle
Bittles Green
Blackford-nr-Wincanton
Bourton
Bowden
Bowridge Hill
Bradford Abbas
Bratton Seymour
Brixton Deverill
Broad Oak
Brook Waters
Bruton
Buckhorn Weston
Bugley
Burton-nr-Mere
Cann
Cann Common
Castle Cary
Caundle Marsh
Charlton Horethorne
Charlton Musgrove
Charnage
Chicklade
Chicksgrove
Child Okeford
Chilmark
Cole
Colesbrook
Combe Throop
Compton Abbas
Compton Pauncefoot
Corton Denham
Crockerton
Crockerton Green
Cucklington
Discove
Ditcheat
Donhead St Andrew
Donhead St Mary
East Compton
East Hatch
East Knoyle
Ebbesbourne Wake
Eccliffe
Elm Hill
Enmore Green
Farrington
Ferne
Fiddleford
Fifehead Magdalen
Fifehead Neville
Fifehead St Quintin
Fonthill Bishop
Fonthill Gifford
Fontmell Magna
Fontmell Parva
Fox Holes
Galhampton
Gannetts
Gare Hill
Gasper
Gillingham
Goathill
Gold Hill
The Green
Greenwich
Guy's Marsh
Hadspen
Hains
Hale
Ham Common
Hammoon
Hanford
Hardway
Hartgrove
Hartmoor
Henstridge
Henstridge Ash
Henstridge Bowden
Henstridge Marsh
Higher Holton
Higher Marsh
Higher Nyland
Higher Pertwood
Hill Deverill
Hindon
Hinton St Mary
Hitcombe Bottom
Holloway
Holton
Holwell
Horningsham
Horsington
Huntingford
Ivy Cross
Iwerne Courtney
Iwerne Minster
Kilmington
Kilmington Common
King's Stag
Kinghay
Kingsbury Regis
Kingston Deverill
Kington Magna
Kit Hill
Knapp Hill
Langham
Lattiford
Leigh Common
Limpers Hill
Little Down
Long Cross
Longbridge Deverill
Longburton
Lower Chicksgrove
Ludwell
Lusty
Lydlinch
Madjeston
Maiden Bradley
Manston
Maperton
Margaret Marsh
Marnhull
Marston Magna
Melbury Abbas
Mere
Milborne Port
Milborne Wick
Milkwell
Milton
Milton on Stour
Monkton Deverill
Moorside
Motcombe
Mounters
Mudford Sock
New Town
Newbury
Newton
Newtown
North Barrow
North Brewham
North Cheriton
North End
Norton Ferris
Oborne
Okeford Fitzpaine
Peacemarsh
Pear Ash
Pen Mill
Penselwood
Pillwell
Pitcombe
Pleck
Poolestown
Portash
Poyntington
Purse Caundle
Puxey
Queen Oak
Redlynch
Ridge
Riding Gate
Rivers' Corner
Rixon
Rodgrove
Rolls Mill
Rook Street
Sedgehill
Sem Hill
Semley
Shaftesbury
Shalford
Shepton Montague
Sherborne
Shillingstone
Shroton
Sigwells
Silton
Silver Knap
South Barrow
South Brewham
South Cheriton
Southbrook
Southmarsh
Sparkford
St James
Stalbridge
Stalbridge Weston
Stoford
Stoke Trister
Stoney Stoke
Stour Provost
Stour Row
Stourton
Stourton Caundle
Stowell
Sturminster Common
Sturminster Newton
Sutton Mandeville
Sutton Waldron
Swallowcliffe
Templecombe
The Bridge
The Common
Tisbury
Todber
Tollard Royal
Towns End
Trent
Tuckingmill
Twyford
Underhill
Upper Chicksgrove
Upton
Upton Noble
Walton Elm
Wardour
Welham
Well Bottom
West Bourton
West End
West End
Whitchurch
White Cross
White Hill
Whitepits
Wilkin Throop
Wincanton
Witham Friary
Wolverton
Woodbridge
Woodville
Woolston
Wyke
Wyke Champflower
Yarlington
Yenston
Yeovilton
Zeals
Where to find us:
More About Sunshine Florist & History
Sunshine Florist is a newly run flower shop, situated in the lively town of Gillingham, Dorset. With over 20 years experience within the floristry trade, Becki and her team strive to give their customers the best possible experience when ordering their flowers. With fresh flowers coming in daily from Holland and where possible locally, we aim to make whatever your occasion as special as possible.
Specialties
We specialise in delivering beautiful bouquets wrapped in cello and tissue paper tied with ribbons or we can do the more natural look in paper and tied with a raffia bow. Hand-ties are also delivered within a box with cello as the vase base and wrapped with cello, tissue paper and tied with a ribbon. Arrangements can also be delivered whether it's in a basket or a ceramic pot, we will make your occasion special. Getting married, come in and have a friendly chat about the flowers that you would like. Have a pin board or a picture of what you have seen, bring it in and we can discuss what we can do for you for that time of year. Have an allergy to pollen don't worry we can source silk flowers to cater for your special day too as they look just as real as the real ones do. We also cater for funerals too. We can create that special tribute that will suit the day and the person in mind.
Location & Delivery
Our shop is situated within the pretty county of Dorset, which is nestled between the county's of Wiltshire and Somerset. As we are located in quite a rural area we would ask our customers to give directions as best they can or anything else that may help our drivers to locate the properties with in our areas, this ensures that the flowers are delivered efficiently and on time. Telephone numbers for recipients and advantage. We would only use these as a last resort to find the property as we don't want to spoil the surprise of the delivery.
Overview for Sunshine Florist
All reviews for Sunshine Florist
Customer awarded 5 stars.