---
Signature by Robinsons
Cooil Road, Braddan, Isle of Man, IM4 2AF, UK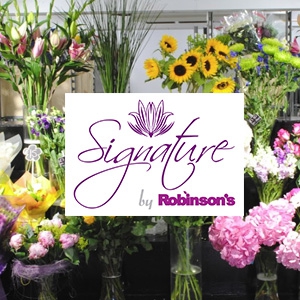 Address:
Cooil Road,
Braddan ,
Isle of Man ,
IM4 2AF
About Signature by Robinsons:
Welcome to Signature by Robinsons. Order flowers online today and experience the Isle of Man's top selection, quality and customer service among Manx florists.
Opening Times:
Mon

9am - 5pm

Tue

9am - 5pm

Wed

9am - 5pm

Thu

9am - 5pm

Fri

9am - 5pm

Sat

9am - 2pm

Sun

Closed
We deliver flowers to:
Agneash
Andreas
Baldhoon
Baldrine
Baldwin
Ballabeg
Ballacannell
Ballacarnane Beg
Ballachrink
Ballagawne
Ballajora
Ballaleigh
Ballamodha
Ballaragh
Ballasalla
Ballaterson
Ballaugh
Ballelby
Barregarrow
Bishop's Court
Braaid
Bradda East
Bradda West
Bride
Castletown
Churchtown
Colby
Cornaa
Corrany
Cranstal
Cregneash
The Cronk
Crosby
Dalby
Derbyhaven
Dhoon
Dhoor
Dreemskerry
Eairy
Fistard
Four Roads
Foxdale
Garey
Glen Auldyn
Glen Mona
Glenchass
Glenmaye
Glentruan
Hillberry
Jerby East
Jurby West
Kella
Keristal
Kerroogarroo
Kirby
Kirk Michael
Knocksharry
Laxey
The Lhen
Lower Foxdale
Maughold
Minorca
The Mooragh
Newtown
Old Laxey
Onchan
Orrisdale
Patrick
Peel
Port e Vullen
Port Erin
Port St Mary
Pulrose
Quine's Hill
Ramsey
Regaby
Rhencullen
Sandygate
Sartfield
Spring Valley
St John's
St Judes
St Mark's
Strang
Sulby
Surby
Tromode
Union Mills
Where to find us:
More About Signature by Robinsons & History
As the leading Isle of Man flower delivery service, we source only the freshest flowers direct from our growers and flower auctions. By cutting out all the wholesalers and middlemen that add time and money to your flowers, our team are dedicated to ensuring that we source only the finest quality and freshest seasonal flowers so that they remain fresh for a minimum of 7 days. Our florists then create and hand-tie the stunning arrangements which are beautifully packaged to maximise the impact of your thoughtful, luxury gift on delivery.
Specialties
We have flowers for every occasion: birthday flowers, get well flowers, anniversary flowers, sympathy flowers, New Baby gifts and even Just Because flowers and Flowers for Business. At Signature by Robinsons, holidays are a special time. Be it something for Christmas, a Romantic Gift at Valentine's or something for your special Mum on Mothering Sunday, we've designed bouquets and gifts for every occasion.
Location & Delivery
Buy flowers online from Signature by Robinsons for delivery throughout the Isle of Man. Amazing selection, award winning quality, and our freshness guarantee. Whether you're looking for Douglas flower delivery services, or you want to send Castletown flowers, we service every town, from Ramsey to Port Erin.