---
Rose Cottage Floral Creations
11 High St, Presteigne, Powys, LD8 2BA, UK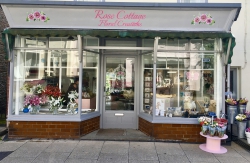 Address:
11 High St,
Presteigne ,
Powys ,
LD8 2BA
About Rose Cottage Floral Creations:
Rose Cottage Floral Creations offers its customers a vast choice of flowers and bouquets to order for collect or delivery. We prefer to adopt a bespoke approach when putting our bouquets together as beautiful flowers should be custom made too suit individual tastes and styles. We create contemporary and vintage designs, and of course the natural cottage garden bouquets. We often use vintage style and colour flowers in our creations, and in particular our roses are protected with their very own guard petals, depending on the look we are recreating this may be left on, if this is not to your liking then please request that these are removed prior to delivery.
Opening Times:
Mon

9am - 1pm

Tue

9am - 5pm

Wed

9am - 5pm

Thu

9am - 5pm

Fri

9am - 5pm

Sat

9am - 3pm

Sun

Closed
We deliver flowers to:
Abberley
Abbeycwmhir
Abcott
Abdon
Aberbechan
Aberedw
Abermule
Acton
Acton Beauchamp
Acton Green
Acton Scott
Adforton
Alcaston
Aldon
Ale Oak
Alfrick
Alfrick Pound
Allensmore
Alltmawr
Almeley
Wooton
Amberley
Anchor
Angelbank
Ankerdine Hill
Archenfield
Argoed
Arrow Green
Ashford Bowdler
Ashford Carbonell
Ashley Moor
Ashperton
Ashton
Asterton
Aston
Pipe Aston
Aston Bank
Aston Botterell
Aston Munslow
Aston on Clun
Auberrow
Aulden
Aylestone Hill
Aylton
Aymestrey
Bache
Bache Mill
Bacheldre
Bagginswood
Bank Street
Bankshead
Barland
Barnfields
Barons' Cross
Bartestree
Barton Court
Bartonsham
Basford
Batchcott
Batchfields
Bayton
Bayton Common
Beach Hay
Beambridge
Bearwood
Beckjay
Bedstone
Beggars Ash
Beguildy
Berrington
Berrington Green
Berrow Green
Bettws-y-crwyn
Bickley
Bicton
Billingsley
Birch Berrow
Birchall
Birchend
Bircher
Birley
Birtley
Birtley
Bishon Common
Bishop's Castle
Bishops Frome
Bishopstone
Bitterley
Blackford
Blacklands
Blackmarstone
Blakemere
Bleak Acre
Bleddfa
Bliss Gate
Bockleton
Bodenham
Bodenham Moor
Boraston
Boraston Dale
Bosbury
Boughrood
Boughrood Brest
Bouldon
Bowley
Bowley Lane
Bowley Town
Bradlow
Bradnor Green
Braichyfedw
Brampton Bryan
Brandhill
Bredenbury
Bredwardine
Breinton Common
Bridge Sollers
Bridgnorth
Brierley
Brilley
Brilley Mountain
Brimfield
Bringewood Forge
Bringsty Common
Brinsop
Brinsop Common
Broad Heath
The Broad
Broadmoor Common
Broadstone
Brobury
Brockmanton
Brockton-nr-Mainstone
Brockton
Bromdon
Bromfield
Bromsberrow
Bromyard
Bromyard Downs
Broncroft
Broneirion
Bronllys
Bronydd
Brookhampton
Brookrow
Broombank
Broome
Broomy Hill
Brown's End
Broxwood
Bryn
Brynllywarch
Bucknell
Buckridge
Buckton
Builth Road
Builth Wells or
Bullinghope
Burcher
Burford
Burghill
Burley
Burley Gate
Burlingjobb
Burmarsh
Burrington
Burwarton
Burwood
Bush Bank
Bushmoor
Buttonbridge
Buttonoak
Bwlch-y-Plain
Bwlch-y-sarnau
Bycross
Byford
Byford Common
Byton
Byton Hand
Cabin
Caersws
Callow
Callow Hill
Callow Marsh
Calver Hill
Camnant
Canon Bridge
Canon Frome
Canon Pyon
Carnedd
Cascob
Castle Frome
Castlegreen
Catley Southfield
Caynham
Cefn Einion
Cefn-gorwydd
Chance's Pitch
Chapel Lawn
Checkley
Chelmarsh
Chelmick
Cheney Longville
Chetton
Chickward
Cholstrey
Chorley
Choulton
Church Stoke
Church Stretton
Churchbank
Churchfield
Churchmoor Rough
Churchtown
Cilmery
Ciltwrch
City
Clatter
Clee St Margaret
Cleedownton
Cleehill
Cleemarsh
Cleestanton
Cleeton St Mary
Clehonger
Clencher's Mill
Cleobury Mortimer
Cleobury North
Clifford
Clifton Upton Teme
Clock Mills
Clouds
Clows Top
Clun
Clunbury
Clungunford
Clunton
Clyro
Cobhall Common
Cobnash
Cock Gate
Cockshoot
Cockshutford
Coddington
Coldbrook
Colebatch
Collington
Collins Green
Colva
Colwall
Combe
Combe Moor
Comberton
Common Hill
Coppicegate
Coreley
Corfton
Corfton Bache
Cornbrook
Cornett
Cornhill
Covender
Coxall
Cradley
Crateford
Credenhill
Cregrina
Crick's Green
Crickadarn
Croft
Cross Bank
Crossgates
Crowther's Pool
Crozen
Crumpsbrook
Culmington
Cusop
Cwm
Cwm Head
Cwmbach Llechrhyd
Cwmbelan
Danesford
Darbys Green
David's Well
Derrington
Deuxhill
Dhustone
Diddlebury
Dilwyn
Dinedor
Dinedor Cross
Discoed
Disserth
Ditton Priors
Docklow
Doddington
Dodmarsh
Dol-y-cannau
Dolfor
Dolhelfa
Dolley Green
Dolyhir
Dormington
Dorstone
The Down
Downton
Duddlewick
Duffryn
Durlow Common
Dutlas
Duxmoor
Eardington
Eardisland
Eardisley
Eardiston
Eastham
Easthampton
Eastnor
Eastwood
Eaton
Eaton
Eaton Bishop
Eau Withington
Ebnall
Edgton
Edvin Loach
Edwyn Ralph
Eign Hill
Elan Village
Elms Green
Elsdon
Elton
Elton's Marsh
Enmore Field
Erwood
Eudon Burnell
Eudon George
Even Pits
Evenjobb
Evesbatch
Eye
Eyton
Far Forest
Farden
Farlow
Felhampton
Felin-newydd
Felton
Fforddlas
Ffynnon Gynydd
Fiddler's Green
Field
Field's Place
Fine Street
Fingerpost
Fishpools
Five Bridges
Flaggoners Green
Flintsham
Floodgates
Footrid
Ford
Fownhope
Fox Hill
Foxley
Foxwood
Frank's Bridge
Franklands Gate
Frith Common
Fromes Hill
Fromington
Garn
Garth Owen
Gaufron
Geseilfa
Gilfach
Gladestry
Glanmule
Glasbury
Glascwm
Glazeley
Gleiniant
Glynbrochan
Glynhafren
Golden Valley
Golder Field
Goose Pool
Gorst Hill
Gosford
Grafton
Grantsfield
Great Cellws
Green Crize
Green Lane
Greenhill
Greenway
Greete
Grendon Bishop
Grendon Green
Grittlesend
Grove
Gwenddwr
Gwernafon
Gwerneirin
Gwystre
Hagley
Hales Bank
Halford
Halmond's Frome
Ham Green
Hamnish Clifford
Hamperley
Hampton
Hampton Bishop
Hampton Loade
Hampton Park
Handless
Hanley Child
Hanley William
Hardwick
Hardwicke
Harpley
Harpton
Harton
Hatfield
Hatton
Haven
Hawkersland Cross
Hay-on-Wye
Hayton's Bent
Hazler
Headbrook
Henley
Heol-y-gaer
Heyop
High Green
High Lane
High Town
Highley
Highway
Highwood
Hill Houses
Hillhampton
Hillside
Hinton
Hints
Hobarris
Hodley
Holdgate
Hollywaste
Holme Lacy
Holme Marsh
Holmer
Holywell
Hope Bagot
Hope Bowdler
Hope under Dinmore
Hope's Rough
Hopesay
Hopley's Green
Hopton Cangeford
Hopton Castle
Hopton Wafers
Hoptonbank
Hoptongate
Horseway Head
Horsham
Howey
Humber
Hunderton
Hundred House
The Hundred
Hungerford
Hungerstone
Huntington
Hurdley
Hurstley
Hyde
Ivington
Kempton
Kenchester
Kerry
Kimbolton
King's Acre
King's Pyon
Kingsfield
Kingsland
Kingstone
Kingswood
Kingswood Common
Kington
Kinlet
Kinnersley
Kinnerton
Kinton
Knapton Green
Knighton
Knighton on Teme
Knightwick
Knill
Knowbury
Knowle
Knowlegate
Knowlesands
Knucklas
Kymin
Kyre
Kyre Green
Kyre Park
Kyrewood
Lady Halton
Lane's End
Larport
Lawton
Lawton
Leamoor Common
The Leath
Leddington
Ledicot
Leinthall Earls
Leinthall Starkes
Leintwardine
Lem Hill
Leominster
Letton
Leysters
Limebrook
Lindridge
Lingen
Linley
Linley Green
Litmarsh
Little Brampton
Little Common
Little Cowarne
Little Hereford
Llaethdy
Llanafan-fawr
Llananno
Llanbadarn Fynydd
Llanbadarn-y-garreg
Llanbister
Llancowrid
Llanddewi Ystradenni
Llanddewi'r Cwm
Llandefalle
Llandegley
Llandeilo Graban
Llandinam
Llandrindod Wells
Llaneglwys
Llanelwedd
Llanerch
Llanfair Waterdine
Llanfair-Ym-Muallt / Builth Wells
Llanfaredd
Llanfihangel Rhydithon
Llanfihangel-helygen
Llanfihangel-nant-Melan
Llangammarch Wells
Llangunllo
Llangurig
Llanidloes
Llanigon
Llanllwchaiarn
Llanllwyd
Llanmerwig
Llansantffraed-Cwmdeuddwr
Llansantffraed-in-Elwell
Llanstephan
Llanwnog
Llanwrthwl
Llanyre
Llawryglyn
Llowes
Lloyney
Llwyn
Llwyn-derw
Llyswen
Long Meadowend
Longley Green
Longville in the Dale
Loughton
Low Town
Lower Bearwood
Lower Breinton
Lower Bullingham
Lower Burton
Lower Chapel
Lower Dinchope
Lower Down
Lower Egleton
Lower Faintree
Lower Forge
Lower Hardwick
Lower Harpton
Lower Hayton
Lower Hergest
Loxter
Lubberland
Lucton
Ludford
Ludlow
Ludstock
Lugg Green
Lugwardine
Lulham
Lulsley
Luston
Lydbury North
Lyde Cross
Lydham
Lynchgate
Lyonshall
Madley
Maesmynis
Maesyrhandir
Mainstone
Mamble
Mansell Gamage
Mansell Lacy
Marden
Mardu
Marlbrook
Marlow
Marshbrook
Marston
Marston Stannett
Mathon
Maund Bryan
Meadow Green
Meadowley
Meer Common
Menithwood
Merbach
Merthyr Cynog
Michaelchurch-on-Arrow
Middlehope
Middleton
Middleton Baggot
Middleton on the Hill
Middleton Priors
Middleton Scriven
Milebrook
Milford
Millhalf
Milson
Minton
Moccas
Moity
Monaughty
Monkhide
Monkhopton
Monkland
Monmarsh
Monnington on Wye
Moor Park
Moorcot
Moorend Cross
Moorhampton
Mordiford
More
Moreton
Moreton Jeffries
Moreton on Lugg
Mortimer's Cross
Morville Heath
Much Cowardne
Munderfield Row
Munderfield Stocks
Munsley
Munslow
Munstone
Mynd
Myndtown
Nant-glas
Nantgwyn
Nantmel
Nantserth
Nash
Nash
Neen Savage
Neen Sollars
Neenton
Nether Skyborry
Netherton
New Invention
New Mills
New Radnor
Newbridge-on-Wye
Newcastle
Newchurch
Newington
Newman's Place
Newnham Bridge
Newton
Nextend
Nineveh
Norbridge
Norbury
Norton Canon
Obley
Ocle Pychard
Old Church Stoke
Old Country
Old Field
Old Hall
Old Neuadd
Old Radnor
Old Storridge Common
Old Wharf
Oldbury
Oldfield
Oldwood
Onibury
Oreton
Orleton
Orleton Common
Overton
Painscastle
Panks Bridge
Panpunton
Pant-y-dwr
Paradise Green
Parkway
Parton
Peaton
Peatonstrand
Pedlar's Rest
Pembridge
Pen-y-Park
Pen-y-wern
Penarron
Pencombe
Penrhos
Pensax
Pentiken
Pentre Dolau Honddu
Pentre Hodre
Pentre-llwyn-llwyd
Pentreheyling
Penygelli
Perton
Peterchurch
Pikestye
Pilleth
Pinstones
Pipe and Lyde
Pixley
Plas Dinam
Plowden
Ponde
Pont Rhyd-y-berry
Pont-y-wal
Pontdolgoch
Pontithel
Pool Head
Portway
Pound Bank
Pow Green
Presteigne
Preston-nr-Leddington
Preston Marsh
Preston on Wye
Preston Wynne
Prior's Frome
Priors Halton
Priory Wood
Pudleston
Purlogue
Purslow
Putley
Putley Common
Putley Green
Putson
Quabbs
Quatford
Ragdon
Ravenhills Green
Red Hill
Rhayader
Rhos-y-meirch
Rhyd-y-cwm
Rhydspence
Richards Castle
Ridgeway Cross
Ridgway
Risbury
Rochford
Rock
Rockgreen
Rockhill
Rodd
Rodd Hurst
Rotherwas
Round Oak
Rowland's Green
Ruckhall
Rushall
Rushbury
Rushock
Ruthall
Ryelands
Saffron's Cross
Sapey Bridge
Sapey Common
Sarnesfield
Seifton
Shawbank
Sheet
Shelderton
Shelsley Beauchamp
Shelsley Walsh
Shelwick
Shelwick Green
Shenmore
Shipton
Shirl Heath
Shobdon
Shucknall
Sibdon Carwood
Sidbury
Silvington
Skyborry Green
Slough
Snead
Snead Common
Snitton
Snittongate
Snodhill
Sollers Dilwyn
Southwood
Spurtree
St Harmon
Stagbatch
Stanford Bishop
Stanford Bridge
Stanford on Teme
Stanley
Stanley Hill
Stanmore
Stanner
Stansbatch
Stanton Lacy
Stanton Long
Stapleton
Staplow
Staunton on Arrow
Staunton on Wye
Steen's Bridge
Steventon
Stockton
Stockton on Teme
Stoke Bliss
Stoke Cross
Stoke Edith
Stoke Hill
Stoke Lacy
Stoke Lane
Stoke Prior
Stoke St Milborough
Stokegorse
Stokesay
Stoneacton
Stoneyard Green
Stoneylane
Stony Cross
Stottesdon
Stowe
Stowe
Strefford
Stretford
Stretford Court
Stretton Grandison
Stretton Sugwas
Suckley
Suckley Green
Suckley Knowl
Sugwas Pool
Sunset
Sutton Lakes
Sutton Marsh
Sutton St Michael
Sutton St Nicholas
Swainshill
Sweet Green
Swinmore Common
Tan Hinon
Tarrington
Tarrington Common
Tedstone Delamere
Tedstone Wafer
Tenbury Wells
The Bage
The Knapp
Thorn
Thornbury
Three Ashes
Three Cocks
Thruxton
Ticklerton
Tidnor
Tillington
Tillinton Common
Tilsop
Tirabad
Titley
Titterhill
Totterton
Tref-y-Clawdd or Knighton
Trefeglwys
Tregoyd Mill
Trehafren
Troedrhiwdalar
Trumpet
Tugford
Tumpy Lakes
Tupsley
Turnastone
Twitchen
Twyford Common
Tyberton
Tyddyn
Tylwch
Tynyrwtra
Ullingswick
Underton
Upcott
Uphampton
Upper Affcot
Upper Breinton
Upper Broxwood
Upper Chapel
Upper Dinchope
Upper Dormington
Upper Egleton
Upper Forge
Upper Hamnish
Upper Hardwick
Upper Hayton
Upper Hergest
Upper Hill
Upper Kinsham
Upper Lyde
Upper Lye
Upper Maes-coed
Upper Netchwood
Upton Cressett
Urdimarsh
The Vauld
Veldo
Velindre
Venn's Green
Vernolds Common
Vowchurch
Vowchurch Common
Wacton
Walford
Walker's Green
Walkmill
Wall Bank
Wall under Heywood
Waller's Green
Walton
Warden
Warham
Wayend Street
Wellington
Wellington Heath
Wentnor
Weobley
Weobley Marsh
Westbrook
Westfield
Westfields
Westhide
Westhope
Westhope
Weston
Weston Beggard
Wettles
Weythel
Wharton
Whatmore
Wheathill
Whettleton
Whitbourne
Whitcot
Whitcott Keysett
White Cross
White Stone
Whitechurch Maund
Whitney-on-Wye
Whittingslow
Whitton
Whitton
Whitton
Whittytree
Whyle
Widemarsh
Wig
Wigmore
Willersley
Winforton
Winnal
Winnal Common
Winslow Mill
Wistanstow
Withington
Withington Marsh
Wofferwood Common
Wolferlow
Wolverton
Womaston
Wood End
Woodbank
Woodgates Green
Woodhill
Woods
Woofferton
Woolhope
Woolhope Cockshoot
Woonton
Wooton
Wootton
Wormsley
Wrickton
Wylde
The Wymm
Wynn's Green
Wyson
Yardro
Yarkhill
Yarpole
Yarsop
Yatton
Yazor
The Yeld
Where to find us:
More About Rose Cottage Floral Creations & History
Our dream started at our home Rose Cottage in Knighton having always had a love of flowers, a home feels empty without them.
In order to make the dream a reality it was important to undertake appropriate training, enrolling at college before moving on to be trained by an award winning florist based in Wales.
Specialties
Arranging funeral flowers can be difficult when emotions and sentiments can be impossible to express in words. Here at Rose Cottage Floral Creations we understand how difficult this can be, our role is to be patient and supportive with a sympathetic approach.
We appreciate how difficult and personal these arrangements can be and would advise that it may be more appropriate to ring the shop and request a home visit or an appointment in order for us to arrange a suitable and poignant tribute that truly reflects your loved one.
Overview for Rose Cottage Floral Creations
All reviews for Rose Cottage Floral Creations
Needing flowers sent from Australia to a relative in time of crisis caused anxiety, so the well organised and efficient service of Rose Cottage via direct2florist put our minds at ease. I appreciate the instant notifications of the order and on delivery. And my sister-in-law says the roses were exquisite. Another order coming your way for a funeral in September. Many thanks. from down under.

Flowers delivered, got a call from the delivery man as my Mum was out to arrange drop with neighbour. Flowers got a great review from Mum who said they were lovely and fresh and enough for two vases. Thank you.

Excellent (same day) service and beautiful flowers. So great that we can send flowers from "South Africa" to the UK so efficiently. Thank you to all the staff at Rose Creations.

Customer awarded 5 stars.

The flowers were absolutely beautiful - delivered at exactly the right time. My friend was overjoyed. An excellent florist in Shropshire

Ordered for my Mum, so I haven't seen the flowers myself but I'm told they are really lovely. Delivered same day too, even though short notice. Great service!
Ordering From A Local Flower Shop
Take a look at the video above to see how your big brand box delivery compares to a local flower shop order.
Added on 19/01/2018by Rose Cottage Floral Creations