---
Jay's Fleurs
9 Sayer Court, Bodham, Holt, Norfolk, NR25 6NJ, UK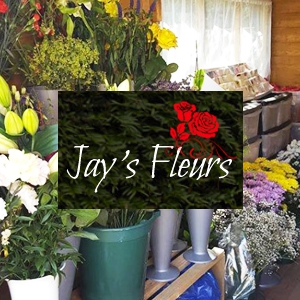 Address:
9 Sayer Court, Bodham,
Holt ,
Norfolk ,
NR25 6NJ
About Jay's Fleurs:
Jay's Fleurs pride ourselves in providing the best service to all our customers. Using only the freshest of flower's. Free Delivery on all local order's. If you can't see what you require, just ask , and we are here to help. If you require that personal touch of a home visit to discuss your flower tributes, we will arrange that for you.
Opening Times:
Mon

9am - 5pm

Tue

9am - 5pm

Wed

9am - 5pm

Thu

9am - 5pm

Fri

9am - 5pm

Sat

9am - 2pm

Sun

Closed
We deliver flowers to:
Alby Hill
Aldborough
Alderford
Anchor Street
Antingham
Ashmanhaugh
Attlebridge
Aylmerton
Aylsham
Baconsthorpe
Bacton
Bacton Green
Bale
Banningham
Barney
Barningham Green
Barton Turf
Bawdeswell
Beeston Regis
Beeston St Lawrence
Beetley
Belaugh
Bengate
Bessingham
Bexfield
Billingford
Binham
Bintree
Bittering
Blackwater
Blakeney
Blickling
Bodham
Booton
Bowthorpe
Bradfield
Brampton
Brandiston
Briggate
Briningham
Brinton
Brisley
Briston
Broom Green
Broomholm
Broomsthorpe
Bunker's Hill
Burgh next Aylsham
Burgh Stubbs
Burnham Market
Burnham Norton
Burnham Overy Staithe
Burnham Overy Town
Burnham Thorpe
Bush Estate
Butcher's Common
Buxton
Calthorpe
Cangate
Cat's Common
Cawston
Chapel Field
Cley next the Sea
Cliftonville
Clint Green
Clippings Green
Cockthorpe
Colby
Colkirk
Coltishall
Colton
Copy's Green
Corpusty
Costessey
Costessey Park
Coxford
Crabgate
Craymere Beck
Cromer
Crossdale Street
Crostwick
Crowgate Street
Dilham
Doughton
Dowe Hill
Drabblegate
Drayton
Dumpling Green
Dunkirk
Dunton
Dunton Patch
East Barsham
East Beckham
East Bilney
East Dereham
Eastgate
Easthaugh
Easton
Eccles on Sea
Eckling Grange
Edgefield
Edgefield Street
Edingthorpe
Edingthorpe Green
Egmere
Elsing
Erpingham
Etling Green
Fakenham
Felbrigg
Felmingham
Felthorpe
Fengate
Field Dalling
Filby Heath
Foulsham
Foundry Hill
Foxley
Frankfort
Frans Green
Freeland Corner
Frettenham
Frogshall
Fulmodeston
Gateley
Gimingham
Glandford
Godwick
Great Ryburgh
Great Snoring
Greengate
Greensgate
Gresham
Gressenhall
Guestwick
Guestwick Green
Guist
Gunthorpe
Hainford
Hamrow
Hanworth
Happisburgh
Happisburgh Common
Harper's Green
Helhoughton
Hellesdon
Hempstead
Hempton
Hemsby
Hengrave
Hevingham
Heydon
High Kelling
Hindolveston
Hindringham
Hockering
Hockering Heath
Hoe
Holkham
Holt
Honing
Honingham
Horningtoft
Horsford
Horsham St Faith
Horstead
Houghton St Giles
Hoveton
Hunworth
Hyltons Crossways
Ingham
Ingham Corner
Ingworth
Irstead Street
Itteringham
Itteringham Common
Jordan Green
Kelling
Kerdiston
Keswick
Kettlestone
Knapton
Lamas
Langham
Lenwade
Lessingham
Letheringsett
Little Barningham
Little Hautbois
Longham
Lower Bodham
Lower Green
Lyng
Lyngate
Marlingford
Marsham
Matlaske
Mattishall
Mattishall Burgh
Mautby
Meeting House Hill
Melton Constable
Metton
Mile Cross
Mileham
Mill Street
Millgate
Moorgate
Morston
Morton
Muckleton
Mundesley
Neatishead
Nethergate
New Costessey
New Hainford
New Holkham
New Sprowston
Newgate
Newport
Newton St Faith
North Barsham
North Creake
North Elmham
Northall Green
Northrepps
Norton Corner
Old Catton
Old Hall Street
Ormesby St Margaret
Ormesby St Michael
Ostend
Oulton
Oulton Stret
Overstrand
Oxnead
Oxwick
Paston
Paston Green
Peaseland Green
Pennygate
Pettywell
Plumstead
Plumstead Green
Pockthorpe
Pollard Street
Potthorpe
Primrose Green
Rackheath
Red Pits
Reepham
Ridlington
Ridlington Street
Ringland
Roughton
Salhouse
Salle
Salthouse
Saxlingham
Saxthorpe
Sco Ruston
Scottow
Scratby
Sculthorpe
Sharrington
Shereford
Sheringham
Sheringwood
Sidestrand
Silvergate
Skeyton
Skeyton Common
Skeyton Corner
Sloley
Smallburgh
South Creake
South Green
South Raynham
Southgate
Southrepps
Spa Common
Sparham
Sparhamhill
Sparrow Green
Spixworth
Sprowston
St James
Stalham
Stalham Green
Stanfield
Stibbard
Stiffkey
Stody
Stratton Strawless
Suffield
Sustead
Sutton
Swafield
Swannington
Swanton Abbott
Swanton Hill
Swanton Morley
Swanton Novers
Syderstone
Tatterford
Tattersett
Taverham
The Green
The Heath
Themelthorpe
Thornage
Thorpe Market
Thorpe Marriott
Threehammer Common
Thurgarton
Thurning
Thursford
Thursford Green
Tittleshall
Toftrees
Toftwood
Trimingham
Trunch
Tungate
Tunstead
Tuttington
Twyford
Tyby
Upgate
Upper Guist
Upper Hellesdon
Walcott
Warham
Waterloo
Welborne
Welbourne Common
Wellingham
West Barsham
West Beckham
West Caister
West End
Westgate
Westgate Street
Weston Green
Weston Longville
Westwick
Weybourne
Whimpwell Green
Whissonsett
Whitwell Street
Wickmere
Wighton
Winterton-on-Sea
Withergate
Witton Bridge
Wiveton
Wolterton
Wood Dalling
Wood Norton
Wood Street
Woodgate
Workhouse Common
Worstead
Worthing
Wroxham
Where to find us:
More About Jay's Fleurs & History
Jay's Fleurs , A long standing Florist with a wealth of experience.
Having trained as a Florist over 40 years ago, I and my staff are well versed in all aspects of floristry.
Specialties
Funerals are one of our specialities, we work closely with our customers to ensure that their final farewell is all they could wish for.
Compassion is put into all our Funeral Tributes working along side the families to ensure they are happy with their final tribute to a loved one.
Floral Arrangements either a Beautiful Hand Tied Bouquet, or a Stunning Basket of Flowers, we guarantee that we only use the freshest of flowers. You can choose your own colour scheme.
Wedding Bouquets we make to a customers requirements, from the simple to the extreme.
Location & Delivery
Jay's Fleurs is based in Bodham in Norfolk . Our delivery area is all North Norfolk . Deliveries are free within a 10 mile radius, a small charge outside of that.
Overview for Jay's Fleurs
All reviews for Jay's Fleurs
Lovely flower wish there were a few more for the price.

would use them again as they I feel they made sure my sister received the flowers for her birthday they went to her house twice and she wasn't home left a note and she rang and they arrange for them to be delivered that day

Where do I start with Jay's Fleurs ? I can only say that I was more than satisfied. They are very professional, the bouquet was gorgeous - I had feedback from the receivers who were in awe. The price was very reasonable and their customer relationship excellent. I HIGHLY recommend them. Maggie, France

I particularly asked for long lasting flowers and this beautiful bouquet appears to be just the job. Thank you

Excellent next day service and very good that they send a picture of the flowers they deliver as i would have never got to see them otherwise (due to it being a delivered gift). Would recommend and use again.

Excellent value for money, beautiful arrangement. Thank you.
Flowers by a local florist or from a box delivery? You Decide!
Here's a short video showing the difference between flowers via a local florist or flowers via a big name box delivery operator. Fun watch with fun music at the end! Enjoy!
Added on 18/01/2018by Jay's Fleurs