---
Headline Floristry and Balloons
Chalfont Rd, Edmonton, London, N9 9LP, UK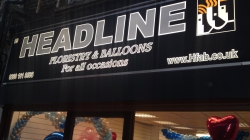 Address:
Chalfont Rd, Edmonton,
London ,
N9 9LP
About Headline Floristry and Balloons:
We offer so much more than just a normal floral and unusual balloon designs! so Visit us online today!
Opening Times:
Mon

10am - 6pm

Tue

10am - 6pm

Wed

10am - 6pm

Thu

10am - 6pm

Fri

10am - 6pm

Sat

10am - 6pm

Sun

Closed
We deliver flowers to:
Abbess End
Abbess Roding
Abbey Mead
Abbey Wood
Abbots Langley
Acton
Acton Green
Addington
Addiscombe
Addlestone
Addlestonemoor
Adeyfield
Albury End
Aldbury
Aldenham
Aley Green
Allen's Green
Allhallows
Allhallows-on-Sea
Alperton
Altmore
Amersham Common
Amersham Old Town
Amwell
Anerley
Ansells End
Applehouse Hill
Apsley
Ardleigh Green
Ardley End
Ascot
Ash
Asheridge
Ashford
Ashford Common
Ashingdon
Ashley Green
Ashley Park
Askett
Aston
Aston Clinton
Astrope
Austenwood
Aveley
Avery Hill
Ayot Green
Ayot St Lawrence
Ayot St Peter
Ayres End
Aythorpe Roding
Babbs Green
Bacon End
Baconend Green
Baddow Park
Bagshot
Baker Street
Baker's Wood
Bakers End
Balham
Ballingdon Bottom
Ballinger Bottom
Ballinger Common
Balstonia
Bamber's Green
Bandonhill
Bannister Green
Barley End
Barnehurst
Barnes
Barnes Cray
Barnston
Barstable
Bartholomew Green
Barwell
Barwick
Batchworth
Batchworth Heath
Batford
Batlers Green
Battersea
Battlesbridge
Beacon Hill
Beamond End
Bean
Beauchamp Roding
Beaumont
Beckenham
Becontree
Beddington
Beddington Corner
Bedford Park
Bedgrove
Bedlar's Green
Bedmond
Beenham's Heath
Beggar Hill
Bell Green
Bellingdon
Bellingham
Belmont
Belsize
Belvedere
Bendish
Bengeo
Benhilton
Bennetts End
Bentley
Berghers Hill
Berkhamsted
Bernards Heath
Berners Roding
Berrylands
Betsham
Bickley
Bicknacre
Bigfrith
Biggin
Billericay
Binfield
Birch Green
Birch Hill
Birchanger
Birchwood
Birds Green
Biscot
Bisham
Bishops Green
Bishopsgate
Black Notley
Blackfen
Blackheath
Blackheath Park
Blackmore
Blackmore End
Blacknest
Blake End
Blasford Hill
Blue Hill
Bobbingworth
Bocking
Bockmer End
Bolter End
Boreham
Borstal
Botany Bay
Botley
Bottrells Close
Bourne End
Bourne End
Boveney
Bovingdon
Bovingdon Green
Bovingdon Green
Bovinger
Bower Heath
Bowers Gifford
Bowes Park
Bowmans
Boxmoor
Boyn Hill
Boyton Cross
Bradenham
Bragbury End
Bramfield
Brands Hill
Brandy Hole
Bray
Bray Wick
Brays Grove
Braywoodside
Breachwood Green
Breeds
Brentford End
Brewer's End
Brick Hill
Bricket Wood
Brimsdown
Britwell
Broad Colney
Broad Green
Broad's Green
Broadgreen Wood
Broadoak End
Broadwater
Brock Hill
Brockley
Broken Green
Bromley
Bromley Common
Bromley Park
Brompton
Brook Green
Brook Street
Brookside
Broom Hill
Broomfield
Broomhall
Broughton
Brunswick Park
Bryant's Bottom
Buckhurst Hill
Buckland
Buckland Common
Bucklandwharf
Buckmoorend
Bucks Hill
Bulbourne
Bull's Green
Bullbrook
Bullen's Green
Bulls Cross
Bulphan
Bulstrode
Burchett's Green
Burn's Green
Burnham Green
Burnt Mills
Burroughs Grove
Burrowhill
Burton End
Burwood Park
Bury Green
Bury Park
Bush End
Bush Hill Park
Bushey Heath
Bushey Mead
Butler's Cross
Butlers Cross
Butt's Green
Buttsbury
Bye Green
Cabbage Hill
Caddington
Caldecote Hill
Camer
Campions
Canfield End
Cannon's Green
Canvey Island
Canvey Village
Capstone
Carpenders Park
Carshalton
Carshalton Beeches
Carshalton on the Hill
Carter's Green
Castle Green
Catford
Causeway End
Chadwell St Mary
Chalfont Common
Chalfont Grove
Chalfont St Giles
Chalfont St Peter
Chalk
Chalk End
Chalkshire
Chalkwell
Chalvedon
Chalvey
Chandler's Cross
Chapel Row
Chapmore End
Charlton
Chartridge
Chase Cross
Chatham Green
Chattenden
Chattern Hill
Chaul End
Chaulden
Chavey Down
Cheapside
Cheddington
Chelmer Village
Chelsfield
Chenies
Chertsey
Chertsey Meads
Chesham Bois
Chessington
Chessmount
Cheverell's Green
Chignall Smealy
Chignall St James
Childerditch
Childwick Bury
Childwick Green
Chiltern Green
Chingford
Chingford Green
Chingford Hatch
Chipperfield
Chipping Hill
Chipping Ongar
Chisbridge Cross
Chislehurst
Chislehurst West
Chiswell Green
Chiswick
Chivery
Cholesbury
Chorleywood
Chorleywood Bottom
Chorleywood West
Church End
Church Street
Churchend
Churchgate Street
Cippenham
Clanking
Clapham
Clapham Park
Clapton Park
Claremont Park
Clatterford End
Clay Hill
Claygate
Clement Street
Clement's End
Clewer Green
Clewer New Town
Clewer Village
Cliffe
Cliffe Woods
Clifftown
Coalhill
Cobham
Cobler's Green
Cock Clarks
Cock Green
Cockfosters
Codicote
Codicote Bottom
Codmore
Cold Christmas
Cold Harbour
Cold Harbour
Cold Norton
Coldblow
Coldharbour
Cole Green
Cole Park
Coleman Green
Coleshill
Colham Green
Collier Row
Collier's Wood
Colliers End
Colliers Hatch
Colnbrook
Colney Hatch
Colney Heath
Colney Street
Commonwood
Coney Hall
Cookham
Cookham Dean
Cookham Rise
Cooksmill Green
Cooling
Cooling Street
Coomb Hill
Coombe
Coombe
Cooper's Green
Cooper's Hill
Coopersale Common
Copse Hill
Corbets Tey
Cores End
Corringham
Cottenham Park
Counters End
Cow Roast
Cowley
Cowley Peachy
Cox Green
Coxtie Green
Cradle End
Crafton
Cranbourne
Cranford
Cranham
Cranley Gardens
Crayford
Crays Hill
Creekmouth
Cressex
Cressing
Crews Hill
Crockenhill
Crofton
Cromer-Hyde
Crooked Billet
Crouch End
Crow Green
Crown Wood
Crownfield
Croxley Green
Cryers Hill
Cupid Green
Curling Tye Green
Curtismill Green
Cuxton
Dagnall
Danbury Common
Dane End
Danesbury
Danesfield
Darenth
Darleyhall
Darvillshill
Datchet
Datchet Common
Datchworth
Datchworth Green
David Street
Daws Heath
Dedworth
Denham
Denham Green
Derry Downs
Digswell
Digswell Park
Digswell Water
Ditchfield
Doddinghurst
Dormer's Wells
Dorney
Dorney Reach
Downham
Downham
Downley
Downside
Drayton Beauchamp
Driver's End
Dry Street
Duck End
Duckend Green
Dudswell
Dulwich
Dulwich Village
Dunsmore
Dutch Village
Earl's Court
Earlsfield
East Acton
East Barnet
East Bedfont
East Burnham
East Dulwich
East End Green
East Hanningfield
East Horndon
East Hyde
Eastbury
Eastcote
Eastcote Village
Eastend
Easthall
Easthampstead
Eastwick
Eaton Bray
Eden Park
Edlesborough
Edmonton
Edney Common
Egham
Egham Hythe
Egham Wick
Egypt
Elkins Green
Ellenbrook
Ellesborough
Elm Park
Elmers End
Elmstead
Elstree
Eltham
Emerson Park
Enfield Highway
Enfield Lock
Enfield Town
Enfield Wash
Englefield Green
Erith
Esher
Essendon
Eton
Eton Wick
Eversley
Eynsford
Fairstead
Falconwood
Fanner's Green
Farley Hill
Farmbridge End
Farnborough
Farnham Common
Farnham Park
Farnham Royal
Farningham
Farther Howegreen
Faulkbourne
Fawkham Green
Felmore
Felsted
Feltham
Felthamhill
Fenn Street
Fern
Field Common
Fields End
Fifield
Finsbury Park
Fishery
Flack's Green
Flackwell Heath
Flamstead
Flaunden
Fleet Downs
Fleetville
Flowers Bottom
Fobbing
Foots Cray
Ford End
Forest Hill
Fortis Green
Forty Green
Forty Hill
Foster Street
Four Ashes
Four Wantz
Fox Hatch
Foxbury
Foxendown
Freezy Water
Frenches Green
Friday Hill
Friern Barnet
Frindsbury
Frith-hill
Frithsden
Frogmore
Fryerning
Fryerns
Fuller Street
Fulmer
Furze Platt
Furzedown
Fyfield
Gadebridge
Gadshill
Galleyend
Galleywood
Gallows Corner
Gamble's Green
Garnetts
Garston
Gaston Green
Gay Bowers
George Green
Gernon Bushes
Gerrards Cross
Gidea Park
Giggshill
Gilston Park
Gilwell Park
Goddington
Good Easter
Goose Green
Gooseberry Green
Gorhambury
Grange
Grange Park
Gransmore Green
Gravel Hill
Gravesend
Great Amwell
Great Baddow
Great Berry
Great Burstead
Great Canfield
Great Claydons
Great Dunmow
Great Gaddesden
Great Hallingbury
Great Hampden
Great Hivings
Great Kimble
Great Kingshill
Great Leighs
Great Malgraves
Great Missenden
Great Oxney Green
Great Parndon
Greatgap
Green End
Green End
Green Hailey
Green Street
Green Street
Green Street Green
Green Tye
Greenford
Greenhill
Greenhithe
Greensted
Greensted Green
Greenwoods
Grove Park
Grovehill
Grubb Street
Gubbion's Green
Gubblecote
Gunnersbury
Gustard Wood
Hackbridge
Hacton
Hadham Cross
Hadham Ford
Hadleigh
Hailey
Haldens
Hale
Hale End
Hall Grove
Halling
Hallingbury Street
Halls Green
Hallsford Bridge
Halton
Ham
Ham Moor
Hammerfield
Hampton
Hampton Hill
Hampton Wick
Handley Green
Handside
Handy Cross
Hanwell
Hanworth
Hare Street
Harefield
Harefield Grove
Harlington
Harmans Water
Harmer Green
Harmondsworth
Harold Hill
Harold Park
Harold Wood
Harpenden Common
Harringay
Harrow on the Hill
Harrow Weald
Hart Hill
Hartford End
Hartham
Hartley
Hartley Green
Hastingwood
Hastoe
Hatch End
Hatching Green
Hatfield Broad Oak
Hatfield Garden
Hatfield Heath
Hatfield Hyde
Hatfield Peverel
Hatton
Hatton Hill
Havering-atte-Bower
Hawbush Green
Hawks Hill
Hawkwell
Hawley
Hawthorn Hill
Hay Green
Hayes
Hayes End
Hayes Town
Hazeleigh
Hazlemere
Headstone
Heath End
Heath Park
Heath Side
Hebing End
Hedgerley
Hedgerley Green
Hedgerley Hill
Hedsor
Helham Green
Hellman's Cross
Henley Street
Herne Hill
Herongate
Heronsgate
Hersham
Hertford Heath
Hertingfordbury
Heston
Hextable
Heybridge
High Beach
High Cross
High Easter
High Halstow
High Houses
High Laver
High Ongar
High Roding
High Town
High Wych
Higham
Higham Hill
Highams Park
Higher Denham
Highfield
Highgate
Highway
Highwood
Hill End
Hillingdon Heath
Hilltop
Hinchley Wood
Hither Green
Hobbs Cross
Hockenden
Hockerill
Hogpits Bottom
Holdbrook
Holloway
Hollybush Corner
Hollybush Hill
Holmer Green
Holtspur
Holyport
Holywell
Holywell
Homerton
Honeywick
Honor Oak
Honor Oak Park
Hoo End
Hoo St Werburgh
Hook
Hook End
Hook Green
Hook's Cross
Hope End Green
Hope's Green
Hornchurch
Horndon on the Hill
Horne Row
Hornsey
Hornsey Vale
Horseman Side
Horton
Horton
Horton Kirby
Horton Wharf
Hotley Bottom
Hounslow Green
Hounslow West
Housham Tye
How Wood
Howe Green
Howe Street
Howegreen
Hudnall
Hughenden Valley
Hulcott
Hullbridge
Hunsdon
Hunsdonbury
Hunt's Green
Hunt's Hill
Hunton Bridge
Hurley
Hurley Bottom
Hurst Park
Hutton
Hutton Mount
Hyde Chase
Hyde Heath
Hythe
Hythe End
Ickenham
Ingatestone
Ingrave
Isleworth
Istead Rise
Iver
Iver Heath
Ivinghoe
Ivinghoe Aston
Jack's Green
Jack's Hatch
Jealott's Hill
Jockey End
Jordans
Keeres Green
Kelvedon Hatch
Kennington
Kensworth
Kenton
Keston
Keston Mark
Kettle Green
Kevingtown
Kew
Kidbrooke
Kimpton
King Street
Kings Langley
Kingsash
Kingsmoor
Kingston Vale
Kingswood
Kingswood
Kinsbourne Green
Knebworth
Knight's Hill
Knockhall
Knotty Green
Knowl Hill
Knowle Green
Knowle Hill
Lacey Green
Ladywell
Laindon
Lake End
Laleham
Lampton
Lane End
Lane End
Lanes End
Langdon Hills
Langford
Langley
Langley
Langley Corner
Langleybury
Lanham Green
Latchford
Latchmore Bank
Latimer
Latton Bush
Layters Green
Lea Bridge
Lea Valley
Leaden Roding
Leasey Bridge
Leavesden Green
Ledburn
Lee
Lee Chapel
Lee Clump
Lee Common
Lee Gate
Leigh Beck
Lemsford
Lent
Lent Rise
Lessness Heath
Letchmore Heath
Letty Green
Levens Green
Leverstock Green
Ley Hill
Leyton
Lightwater
Linford
Lippitts Hill
Little Baddow
Little Boys Heath
Little Braxted
Little Burstead
Little Chalfont
Little Dunmow
Little Easton
Little End
Little Gaddesden
Little Hadham
Little Hallingbury
Little Hampden
Little Heath
Littlefield Green
Littleton
Littleton Common
Littlewick Green
Littleworth Common
Littley Green
Locksbottom
London Colney
Long Ditton
Long Marston
Longcross
Longfield
Longfield Hill
Longford
Longlands
Loosley Row
Loudwater
Loudwater
Love Green
Loves Green
Low Street
Lower Bobbingworth
Lower Bois
Lower Bush
Lower Cadsden
Lower Clapton
Lower Edmonton
Lower Feltham
Lower Green
Lower Green
Lower Halliford
Lower Higham
Loyter's Green
Luddesdown
Luton
Lye Green
Lynch Hill
Lyons Hall
Mackerye End
Magdalen Laver
Maiden's Green
Maidenhead Court
Manor Park
Mantles Green
Manwood Green
Maple Cross
Marden Ash
Mardleybury
Margaret Roding
Margaretting
Margaretting Tye
Mark Hall North
Mark Hall South
Markyate
Marlow Bottom
Marlow Common
Marshalls Heath
Marshalswick
Marshmoor
Marsworth
Mashbury
Matching
Matching Green
Matching Tye
Maypole
Medmenham
Mentmore
Meopham
Meopham Green
Meopham Station
Meriden
Merry Hill
Merton Park
Micklefield
Micklefield Green
Middle Green
Middle Stoke
Milch Hill
Mill End
Mill Green
Mill Green
Mill Hill
Miller's Green
Milton
Minnow End
Mitcham
Mobwell
Mockbeggar
Molehill Green
Moneyhill
Moneyrow Green
Monks Orchard
Moor Common
Moor End
Moor End
Moor Park
Morden
Morden Park
Moreton
Mortlake
Moss End
Motspur Park
Mott's Green
Mottingham
Moulsham
Mount Bovers
Mount End
Mount Pleasant
Mountnessing
Mowden
Much Hadham
Mucking
Muswell Hill
Naphill
Nash
Nash Lee
Nash Mills
Nash Street
Nast Hyde
Navestock Heath
Navestock Side
Needham Green
Nether Street
Nether Street
Netteswell
Nettleden
Nevendon
New Ash Green
New Barn
New Barnet
New Beckenham
New Charlton
New Cross
New Cross Gate
New Denham
New Eltham
New Greens
New Ground
New Haw
New House
New Malden
New Mill
New Southgate
New Street
New Thundersley
New Town
New Town
Newell Green
Newlands
Newman's End
Newney Green
Newtown
Newyears Green
Nine Ashes
Nine Elms
Noak Bridge
Noak Hill
Noak Hill
Nobland Green
Noel Park
Noke Street
Nomansland
Norbiton
Norbury
North Acton
North Ascot
North Benfleet
North Cheam
North Cray
North End
North End
North Fambridge
North Feltham
North Finchley
North Halling
North Harrow
North Hillingdon
North Hyde
North Lee
North Ockendon
Northall
Northchurch
Northfleet
Northfleet Green
Northolt
Northumberland Heath
Northwood
Northwood Hills
Norton Heath
Norton Mandeville
Norwood End
Norwood Green
Norwood New Town
Nounsley
Nunhead
Nup End
Nup End
Nuper's Hatch
Nuptown
Oaklands
Oakleigh Park
Oakley Green
Oakwood
Oatlands Park
Old Bexley
Old Hall Green
Old Harlow
Old Hatfield
Old Knebworth
Old Malden
Old Oak Common
Old Windsor
Orchard Leigh
Orpington
Orsett
Orsett Heath
Osidge
Osterley
Ottershaw
Oxhey
Oxlease
Padham's Green
Painter's Green
Paley Street
Palmers Green
Panshanger
Park Langley
Park Royal
Park Street
Park Town
Parkgate
Parslow's Hillock
Parsonage Green
Parsons Green
Passingford Bridge
Passmores
Patchetts Green
Peartree
Peartree Green
Peckham
Pedlars End
Pednor Bottom
Pednormead End
Penge
Penn
Penn Bottom
Penn Street
Pepper's Green
Pepperstock
Perivale
Perry Green
Perry Street
Peters Green
Petersham
Petts Wood
Pharisee Green
Philpot End
Piccotts End
Piddington
Pigstye Green
Pilgrims Hatch
Pimlico
Pinkneys Green
Pinnacles
Pinner
Pinner Green
Pinnerwood Park
Pipps Hill
Pitsea
Pitstone
Pitstone Green
Pitstone Hill
Plaistow
Pleshey
Plumstead
Plumstead Common
Pond Park
Ponders End
Porter's End
Potten End
Potter Street
Potters Crouch
Pottersheath
Pouchen End
Poverest
Powers Hall End
Poyle
Presdales
Prestwood
Priestwood
Priestwood
Priestwood Green
Princes Risborough
Prittlewell
Puddledock
Purfleet
Purleigh
Putney
Putney Heath
Putney Vale
Puttenham
Puttock's End
Pye Corner
Queen's Park
Rableyheath
Radlett
Radley Green
Rainham
Ramsden
Ramsden Bellhouse
Ramsden Heath
Rank's Green
Rawreth
Rawreth Shot
Rayleigh
Rayne
Rayners Lane
Raynes Park
Reader's Corner
Redbourn
Redbournbury
Redland End
Rettendon
Richings Park
Ridgemarsh
Ringshall
Ringtail Green
Rise Park
Riverview Park
Rochester
Roe End
Roe Green
Roehampton
Roestock
Rose Hill
Rosehill
Rosherville
Round Bush
Round Green
Round Street
Roundbush
Roundbush Green
Roundshaw
Row Green
Row Town
Rowhill
Roxeth
Roxwell
Roydon
Roydon Hamlet
Rucklers Lane
Rudley Green
Ruislip
Ruislip Common
Ruislip Gardens
Ruislip Manor
Runsell Green
Runwell
Rush Green
Rush Green
Rusling End
Ruxley
Rydens
Rye Park
Sabine's Green
Sacombe
Sacombe Green
Salt Hill
Sandon
Sandridge
Sands
Sands End
Sarratt
Saunderton Lee
Sawbridgeworth
Scotswood
Seer Green
Seething Wells
Selhurst
Sewardstone
Sewardstonebury
Shacklewell
Sharnal Street
Sheepridge
Sheering
Shelley
Shellow Bowells
Shenfield
Shenleybury
Shepherd's Bush
Shepperton
Shepperton Green
Sherrardspark
Shirley
Shooters Hill
Shootersway
Shorne
Shorne Ridgeway
Shortlands
Shotgate
Shreding Green
Shrubs Hill
Shurlock Row
Sidcup
Silver End
Singlewell
Sipson
Slade Green
Slapton
Sleapshyde
Slip End
Smallford
Smith's Green
Smoky Row
Smug Oak
Snaresbrook
Sole Street
Sopwell
South Acton
South Ascot
South Beddington
South Benfleet
South Croydon
South Darenth
South Fambridge
South Field
South Green
South Hanningfield
South Harefield
South Harrow
South Hatfield
South Heath
South Hornchurch
South Kensington
South Lambeth
South Norwood
South Ockendon
South Oxhey
South Ruislip
Southborough
Southend
Southfields
Southfields
Southfleet
Southgate
Speed Gate
Speen
Spellbrook
Spital
Spring Grove
Spring Park
Springfield
Spurlands End
St Helier
St Johns
St Leonards
St Margarets
St Margarets
St Mary Cray
St Mary Hoo
Stagden Cross
Staines
Staines Green
Stamford Hill
Stanborough
Standon
Standon Green End
Stanford Rivers
Stanford-le-Hope
Stanmore
Stanners Hill
Stanstead Abbots
Stanwell
Stanwell Moor
Stapleford
Stapleford Abbotts
Stapleford Tawney
Start Hill
Startop's End
Stebbing Green
Stewards
Stock
Stockwell
Stoke
Stoke Green
Stoke Mandeville
Stoke Newington
Stoke Poges
Stondon Massey
Stone
Stonebridge
Stonehill
Stoneleigh
Stonewood
Stony Green
Stow Maries
Stratton Chase
Strawberry Hill
Streatham
Streatham Hill
Streatham Park
Streatham Vale
Strood
Stroud Green
Stroud Green
Stroude
Stubbings
Stud Green
Studham
Studley Green
Sudbury
Summerstown
Sunbury Common
Sundridge
Sunken Marsh
Sunningdale
Sunninghill
Sunnymeads
Sunnymede
Sutton
Sutton
Sutton at Hone
Swallows Cross
Swan Bottom
Swanley Village
Swanscombe
Takeley
Takeley Street
Taplow
Tarpots
Tatling End
Taverners Green
Teddington
Temple
Temple Fields
Temple Hill
Terling
Terrick
Terriers
Tewin
Tewin Wood
Thames Ditton
Thamesmead
The Camp
The Folly
The Frythe
The Green
The Green
The Grove
The High
The Lee
The Node
The Rise
The Rookery
The Ryde
The Swillett
Theydon Mount
Thistley Green
Thong
Thorley
Thorley Houses
Thorley Street
Thorney
Thornton Heath
Thornwood Common
Thorpe
Thorpe Green
Thorpe Lea
Threshers Bush
Thundersley
Thundridge
Tickleback Row
Tilbury
Tilegate Green
Tilekiln Green
Tip's Cross
Tittenhurst
Tittle Row
Tokyngton
Tolworth
Tonwell
Toot Hill
Tottenham
Tottenham Hale
Totteridge
Totternhoe
Touchen-end
Tower Hill
Towerage
Townsend
Trims Green
Tring
Tring Wharf
Tringford
Trowley Bottom
Trumps Green
Tulse Hill
Tunbridge Hill
Two Waters
Twydall
Tye Common
Tye Green
Tyler's Green
Tyler's Hill
Tylers Green
Tyttenhanger
Upminster
Upper Bush
Upper Clapton
Upper Dunsley
Upper Edmonton
Upper Elmers End
Upper Halliford
Upper Halling
Upper Holloway
Upper North Dean
Upper Norwood
Upton
Uxbridge Moor
Vange
Venus Hill
Victoria Park
Virginia Water
Waddon
Wadesmill
Wainscott
Walham Green
Wallington
Walnuttree Green
Walter's Ash
Waltham St Lawrence
Walthamstow
Walton-on-Thames
Wandle Park
Wandon End
Wardrobes
Wareside
Warfield
Warley
Warners End
Warren Row
Watch House Greeb
Water End
Waterdale
Waterend
Waterford
Waterhales
Waterside
Watford Heath
Watton at Stone
Watton's Green
Wayfield
Wealdstone
Weir
Well End
Wellpond Green
Wellstye Green
Welwyn
Wendover
Wendover Dean
Wennington
West Acton
West Barnes
West Bedfont
West Brompton
West Drayton
West Dulwich
West Ealing
West End
West End
West End
West Ewell
West Green
West Hanningfield
West Harrow
Westbrook Hay
Westland Green
Westley Heights
Weston Green
Weston Turvill
Westwick Row
Weybridge
Wheathampstead
Wheeler End
Whelpley Hill
Whempstead
Whetstone
Whippendell Bottom
Whipsnade
White Hall
White Notley
White Oak
White Roding or
White Roothing or White Roding
White Waltham
Whiteleaf
Whitton
Whitwell
Wick Hill
Wickford
Wickham Bishops
Widford
Widford
Widmer End
Widmoor
Widmore
Wigginton
Wigginton Bottom
Wildridings
Willingale
Willowbank
Willows Green
Wilmington
Wilstone
Wilstone Green
Wilton Park
Winchmore Hill
Winchmore Hill
Windlesham
Wingrave
Winkfield
Winkfield Row
Winsdon Hill
Winter Gardens
Wooburn
Wooburn Green
Wood End
Wood End Green
Wood Green
Woodburn Common
Woodburn Moor
Woodcock Hill
Woodend
Woodford
Woodford Green
Woodford Wells
Woodhall
Woodham Ferrers
Woodham Mortimer
Woodham Walter
Woodhill
Woodlands
Woodlands Park
Woodrow
Woodside
Woodside
Woodside
Woodside
Woodside
Woodside Green
Woollensbrook
Woolley Green
Woolmer Green
Woolwich
Worcester Park
World's End
World's End
Wouldham
Wraysbury
Wrexham Street
Wright's Green
Writtle
Wyatt's Green
Wycombe Marsh
Yeading
Yiewsley
Young's End
Youngsbury
North Weald Bassett
Sunbury on Thames
Overview for Headline Floristry and Balloons
All reviews for Headline Floristry and Balloons
They really made a beautiful arrangement, with the addition of red roses etc. It was much better quality than the one I ordered with the original florist that then couldn't make it, and after seeing this, I'm pleased they couldn't! Will deffo recommend and use this florist again via Direct2florist. Thank you so much.

Customer awarded 5 stars.

Customer awarded 4 stars.

Have used your service several times and have been very satisfied with the results. Thankyou J.Kasper

lovely flowers and extremely courteous delivery lady ,thank you

They were absolutely as helpful as possible to deliver my flowers a day before schedule (at Valentine's day no less!) and got the job done perfectly!