---
Freedom Flowers
34 St. John Street, Ashbourne, Derbyshire, DE6 1GH, UK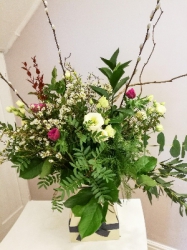 Address:
34 St. John Street,
Ashbourne ,
Derbyshire ,
DE6 1GH
About Freedom Flowers:
Freedom Flowers is the central florist in Ashbourne and delivers a high quality professional floristry service across the Derbyshire Dales. We use locally grown and UK flowers in our arrangements and can source specialist flowers for weddings and celebrations. We would love the opportunity to bring our very special look to your flowers and ensure the recipient receives our careful personal attention.
Opening Times:
Mon

10am - 5pm

Tue

10am - 5pm

Wed

10am - 5pm

Thu

10am - 5pm

Fri

10am - 4pm

Sat

10am - 4pm

Sun

Closed
We deliver flowers to:
Alkmonton
Alsop en le Dale
Alstonefield
Ashbourne
Atlow
Back o'th' Brook
Ballidon
Biggin-nr-Hognaston
Blackwall
Blore
Bolehill
Boylestonfield
Bradbourne
Bradley
Brailsford
Brailsford Green
Brassington
Callow
Calton
Carsington
Cauldon
Cauldon Lowe
Church Mayfield
Clifton
Coldeaton
Commonside
Compton
Cross o'th hands
Cubley Common
Denstone
Edlaston
Ednaston
Ellastone
Fenny Bentley
Gorseybank
Great Cubley
Hales Green
Hognaston
Hollington
Hollington Grove
Hope
Hopedale
Hopton
Hulland
Hulland Moss
Hulland Ward
Idridgehay
Idridgehay Green
Ilam
Ireton Wood
Kirk Ireton
Kirk Langley
Kniveton
Knockerdown
Little Cubley
Longcliffe
Longford
Longfordlane
Longlane
Lower Ellastone
Mapleton
Markeaton
Marston Montgomery
Mayfield
Mercaton
Mickleover
Middle Mayfield
Milldale
Millington Green
Moorend
Mugginton
Muggintonlane End
Newhaven
Norbury
Osmaston
Over Burrows
Parwich
Potter Somersal
Prestwood
Quixhill
Ramshorn
Rocester
Rodsley
Roston
Shirley
Snelston
Spitalhill
Stanshope
Stanton
Stubwood
Swinscoe
Thorpe
Threelows
Thurvaston
Tissington
Upper Ellastone
Warmbrook
Waterfall
Waterhouses
Wirksworth
Wirksworth Moor
Wyaston
Yeaveley
Yeldersley Hollies
Where to find us:
More About Freedom Flowers & History
Freedom Flowers was opened in 2016 after 5 years of growing and designing flowers direct to brides and event managers in Derbyshire. Owner Sheila and florist Cathy work together to bring a very individual and stylish mix of British flowers with the best of international floristry.
Specialties
We use British flowers to create fun and interesting gift bouquets as well as stylish wedding designs within customer led budgets.
The local residents are very supportive of our business and would be delighted to think their relatives had thought of us to deliver their flowers.
Location & Delivery
Freedom Flowers is based in the main shopping street in Ashbourne, a pretty Derbyshire Dales town in the Peak District.
We deliver daily to Ashbourne, surrounding villages and Wirksworth early in the morning, or in the evening.
Overview for Freedom Flowers
All reviews for Freedom Flowers