---
Flowertime Florist
17 Penpol Ter, Hayle, Cornwall, TR27 4BQ, UK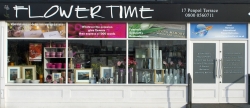 Address:
17 Penpol Ter,
Hayle ,
Cornwall ,
TR27 4BQ
About Flowertime Florist:
As seen on BBC TV, Chelsea Live and Cornwall's only Chelsea gold medallist. Don't be late for that very important date; be on time with Flowertime Florist. National Diploma Florist UK and members of the American Institute of Floral Designers. Please note all images are for guidance only.
Opening Times:
Mon

9am - 5pm

Tue

9am - 5pm

Wed

9am - 5pm

Thu

9am - 5pm

Fri

9am - 5pm

Sat

9am - 12:30pm

Sun

Closed
We deliver flowers to:
Amalebra
Amalveor
Angarrack
Ashton
Balwest
Barripper
Brunnion
Calloose
Canonstown
Carbis Bay
Carleen
Carnhell Green
Carzise
Castle Gate
Chenhalls
Chynoweth
Clowance Wood
Cockwells
Connor Downs
Coombe-nr-Camborne
Copperhouse
Coswinsawsin
Cripplesease
Crowan
Crowlas
Deveral
Drym
Foundry
Fraddam
Georgia
Germoe
Godolphin Cross
Goldsithney
Gulval
Gwallon
Gwedna
Gwinear
Gwinear Downs
Gwithian
Halamanning
Halsetown
Hellesveor
High Lanes
Higher Downs
Horsedowns
Joppa
Kehelland
Kerthen Wood
Killivose
Leedstown
Lelant
Lelant Downs
Longrock
Longstone
Ludgvan
Marazion
Menadarva
Millpool
Nanceddan
Nancegollan
Nancemellin
Nancledra
Newtown
Ninnes Bridge
Noonvares
Paul's Green
Penbeagle
Pengersick
Penponds
Penzance
Perran Downs
Perranuthnoe
Phillack
Plain-an-Gwarry
Polpeor
Porthleven
Praa Sands
Praze-an-Beeble
Reawla
Relubbus
Reskadinnick
Rose-an-Grouse
Rosewarne
Roseworthy
Roseworthy Barton
Rosudgeon
Sithney
Sithney Green
St Erth
St Erth Praze
St Hilary
Stennack
The Towans
Tolcarne
Towednack
Townshend
Tregurtha Downs
Trencrom
Trenerth
Trenwheal
Trescowe
Treslothan
Tresowes Green
Tresoweshill
Treswithian
Treswithian Downs
Trevalgan
Treveal
Trewartha
Truthwall
Varfell
Vellanoweth
Ventonleague
Wall
Wheal Alfred
Whitecross
Where to find us:
More About Flowertime Florist & History
Say It With Flowers
Flowertime and We Send Flowers is a leading Cornish Florist for internet flowers in the UK and internet flowers around the World – we can not only offer same day flower delivery and next day delivery but international flower delivery too. We have been experts in sending emotions through international and local flower delivery for nearly 25 years and understand the importance of getting your flowers delivered with care. We are dedicated to Customer commitment to ensure that you receive the best service and experience possible when ordering flowers & gifts from Flowertime Florist and We Send Flowers.co.uk . Our Bouquets to Floral Baskets, Floral arrangements to Handtieds in fact every floral item is hand-made and personally delivered by ourselves or from the network of over 5000 expert florists, throughout the UK and overseas. All of our florists and fellow florist within the network are passionate about flowers and floral gifts they create for each customer. From traditional flowers to modern flowers, luxury flowers to stylish plants or you can design your own. So whether it's a birthday, anniversary, new baby, new home, a wedding, or to send congratulations, you can be sure that Flowertime Florist and We Send Flowers the flower professionals , will deliver the perfect floral gift to your recipient.
Choose family run Flowertime Florist and We Send Flowers the flower professionals and you will celebrate your special day with a present which will delight your loved one!
Flowertime and We Send Flowers are always supporting charities in the area.
If you need to order or buy flowers online you can trust Flowertime Florist and We Send Flowers the flower professionals - the traditional online flower shop.
Same day flower delivery available on selected products ordered before 1pm Monday to Saturday.
#ShopHayle
Specialties
Welcome to Flowertime Florist & We Send Flowers.co.uk
Mark and the staff welcome you to Flowertime Florist on Penpol Terrace, Hayle, your florist delivering flowers in Hayle, St Ives, Camborne, Penzance, Cornwall, UK and Worldwide.
Flowertime Florist was established on the 18th September, 1989. The business was founded by Mark Nicholas and as the business has expanded and grown Marks wife Rebecca, also a qualified florist, has joined the team making Flowertime a successful locally run family business.
Since Flowertime was established Mark has become the highest qualified florist in the Cornwall area, gaining the National Diploma of the Society of Floristry (NDSF) and the American Institute of Floral Designers (AIFD) qualifications. Mark has demonstrated and judged nationally and has been invited many times to exhibit at the Chelsea Flower Show, where Flowertime Florist has gained numerous medals including gold.
Flowertime began by selling just flowers and plants, but over the years has expanded its range of products to include greetings cards, jewellery, handmade chocolates & soaps, candles, vases and glassware. Flowertime is the official stockists of Carrie Elspeth Jewellery, LSA Glassware, Celtic Herbal Company, Wendy Jones Blackett, Belly Button Designs, Umbra, Gisela Graham, Lime, Quire, Button Love, Rachel Ellen Designs, Bitter & Twisted, Culture Mix, David Chapman Photography and Kernow Chocolate, to name a few.
Flowertime provides flowers for all occasions, specialising in gift, funeral and wedding flowers. Where possible, Flowertime prefers to sell locally sourced flowers and plants, supporting many local Cornish growers, but in addition to this Flowertime has flower deliveries from Holland four times a week, and can source almost all flowers year round.
Location & Delivery
We deliver flowers to: Amalebra, Amalveor, Angarrack, Ashton, Balwest, Barripper, Beacon, Boscreege, Broadlane, Brunnion, Calloose, Camborne, Canonstown, Carbis Bay, Carleen, Carnhell Green, Carwynnen, Carzise, Castle Gate, Chenhalls, Chynoweth, Clowance Wood, Cockwells, Connor Downs, Coombe-nr-Camborne, Copperhouse, Coswinsawsin, Cripplesease, Crowan, Crowlas, Crowntown, Deveral, Drym, Foundry, Fraddam, Georgia, Germoe, Godolphin Cross, Goldsithney, Gulval, Gwallon, Gwedna, Gwinear, Gwinear Downs, Gwithian, Halamanning, Halsetown, Hayle, Hellesveor, High Lanes, Higher Downs, Horsedowns, Joppa, Kehelland, Kenneggy, Kenneggy Downs, Kerthen Wood, Killivose, Leedstown, Lelant, Lelant Downs, Longrock, Longstone, Ludgvan, Marazion, Menadarva, Millpool, Nanceddan, Nancegollan, Nancemellin, Nancledra, Newtown, Ninnes Bridge, Noonvares, Paul's Green, Penbeagle, Pengersick, Penhale Jakes, Penponds, Perran Downs, Perranuthnoe, Phillack, Plain-an-Gwarry, Polladras, Polpeor, Praa Sands, Praze-an-Beeble, Prussia Cove, Reawla, Relubbus, Reskadinnick, Rinsey Croft, Roscroggan, Rose-an-Grouse, Rosewarne, Rosewarne, Roseworthy, Roseworthy Barton, Rosudgeon, St Erth, St Erth Praze, St Hilary, St Ives, Stennack, The Towans, Tolcarne, Towednack, Townshend, Tregurtha Downs, Tremayne, Tremedda, Trencrom, Trenerth, Trenwheal, Trescowe, Treslothan, Tresowes Green, Tresoweshill, Treswithian, Treswithian Downs, Trevalgan, Trevarrack, Treveal, Trew, Trewartha, Trewey, Trezelah, Truthwall, Trythogga, Varfell, Vellanoweth, Ventonleague, Wall, Wheal Alfred, Whitecross
Overview for Flowertime Florist
All reviews for Flowertime Florist
Quality flowers, beautifully presented, delivered on time by charming driver

Customer awarded 5 stars.

The flowers arrived promptly and were very pretty. They were a gift for an anniversary . The display was lovely and lasted until we left to go home .I would recommend the florist highly

One day I am coming to Hail to see the people that send my flowers to my son & daughter in law they are so wonderful & last so long you are worth a five star reting . Mrs V Bartholomew

This is about 5/6 times I have sent flowers I am in Spain & the flowers have been sent in UK & never had problem & the flowers have all been wonderfully .I will keep on using Direct2florest . Thank you for your help Mrs V Bartholomew .

The flowers were delivered at the other side of the country almost as soon as I had ordered. Thank you for a great service.

Customer awarded 5 stars.

My wife was delighted with the flowers, delivered pleasantly and on time. Extremely straightforward from my point of view!

Great service... The florist called 20 minutes after I had placed the order to confirm my preference regards flowers etc..

thank you, lovely flowers and exellant service

Excellent, prompt service in the time-period requested. My wife was delighted with the bouquet.

The feedback that I've received says that the flowers were delivered well & look perfect.

Thank you once again for exceptional service.

My Mom said that they were beautiful flowers with a lovely yellow bow and really brightened her day. Thank you.

Beautiful flowers and excellent service thank you.

Fantastic service, beautiful flowers.....all perfect and delivered on time!