---
Anne Whysall Florist
Unit 3, Enterprise House, Main Road, Pontesbury, Shrewsbury, Shropshire, SY5 0PY, UK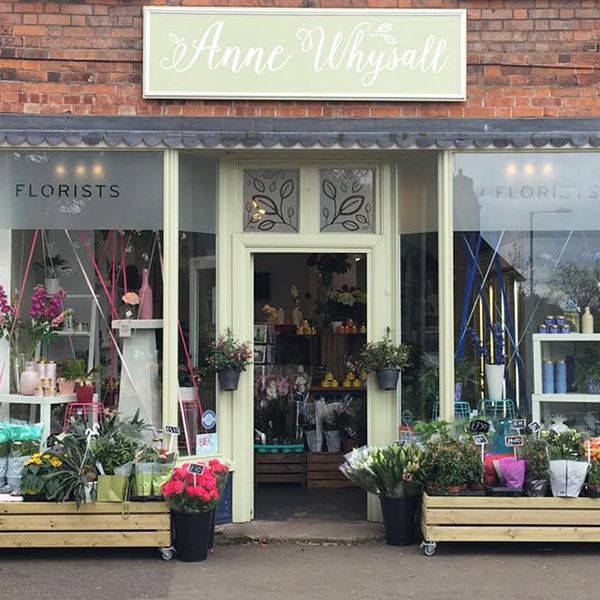 Address:
Unit 3, Enterprise House, Main Road, Pontesbury,
Shrewsbury ,
Shropshire ,
SY5 0PY
About Anne Whysall Florist:
Anne Whysall Florists are based in Pontesbury, Shrewsbury. We offer a local same day delivery service, for orders placed before 2pm. We are also able to offer both national and international delivery. We are members of the British Florist Association and have recently been accepted into the prestigious Good Florist Guide.
Opening Times:
Mon

8:30am - 5:30pm

Tue

8:30am - 5:30pm

Wed

8:30am - 5:30pm

Thu

8:30am - 5:30pm

Fri

8:30am - 5:30pm

Sat

8:30am - 3pm

Sun

Closed
We deliver flowers to:
Acton Burnell
Acton Pigott
Acton Scott
Alberbury
Albrighton
All Stretton
Annscroft
Arscott
Ashbrook
Asterley
Asterton
Astley
Aston Pigott
Aston Rogers
Atcham
Baschurch
Battlefield
Bayston Hill
Belle Vue
Bentlawnt
Berrington
Berwick Wharf
Betchcott
Betton Strange
Bicton
Bicton Heath
Bings Heath
Bishop's Castle
Blackmore
The Bog
Bomere Heath
Bowbrook
Bridges
Broadoak
Brockton-br-Betton
Bromlow
Brompton
Broomfields
Brunant
Bulthy
Butlane Head
Buttington
Calcott
Cantlop
Cardeston
Cardington
Castle Fields
Causewaywood
Cefn
Chatford
Chavel
Chelmick
Cherry Orchard
Chirbury
Church Preen
Church Pulverbatch
Church Stoke
Church Stretton
Coedway
Comley
Condover
Copthorne
Coton Hill
Cound
Coundmoor
Cressage
Crewgreen
Criggion
Cross Houses
Crossgreen
Crosslanes
Crowsnest
Cruckmeole
Cruckton
Ditherington
Dorrington
Dovaston
Downton
Dunnsheath
Eaton Mascott
Edge
Edgerley
Emstrey
Enchmarsh
Ensdon
Etsell
Exfords Green
Eyton
Farley
Felton Butler
Fitz
Ford
Ford Heath
Forton
Forton Heath
Four Crosses
Frankwell
Frochas
Frodesley
Grafton
Gravelhill
Gravels
Gravelsbank
Great Lyth
Great Ness
Great Ryton
Gretton
Habberley
Hadnall
Haimwood
Halfway House
Hampton Beech
Handless
Hanwood
Hanwood Bank
Hardwick
Harlescott
Harmer Hill
Haughton
Hazler
Hemford
Hinton
Hinwood
Hollyhurst
Hook-a-gate
Hope
Hope Bowdler
Hope Park
Hopesgate
Hopton
Horsebridge
Hortonlane
Hurdley
Hyssington
Inwood
Kingsland
Kingswood
Kinnerley
Kinton
Knockin
Knockin Heath
Kynaston
Ladyoak
Lea
Leaton
Leaton Heath
Leebotwood
Leigh
Leighton
Linley
Llandrinio
Llanerch
Longden
Longden Common
Longnor
Longnor Park
Lower Common
Lower Hopton
Lydbury North
Lyde
Lydham
Lythbank
Malehurst
The Marsh
Marton
Meadowtown
Medlicott
Melverley
Melverley Green
Meole Brace
Merrington
Middletown
Milford
Minsterley
Minton
Mondaytown
Monkmoor
Montford
Montford Bridge
Montgomery
More
Mount Pleasant
Mytton
Nesscliffe
Nib Heath
Nobold
Norbury
Nox
Oaks
Old Church Stoke
Old Coppice
Overs
Pennerley
Pentirvin
Pentre
Pentre
Picklescott
Pitchford
Plaish
Plasau
Plealey
Ploxgreen
Pontesbury
Pontesbury Hill
Pontesford
Ponthen
Pool Quay
Porthill
Prescott
Preston Gubbals
Preston Montford
Priest Weston
Pulley
Pulverbatch
Radlith
Ragdon
Ratlinghope
Reabrook
Redhill
Rorrington
Rowley
Rowton
Ruckley
Ruyton-XI-Towns
Sascott
Shawbury
Shelton
Shelve
Shoot Hill
Shorthill
Shrawardine
Smethcott
Snailbeach
Snead
Spring Gdns
Stanford
Stapleton
Stiperstones
Stockton
Stocktonwood
Stoney Stretton
Sutton
The Quarry
Trederwen
Trelystan
Trewern
Turfmoor
Uffington
Underdale
Upper Battlefield
Upper Cound
Upton Magna
Valeswood
Vennington
Vron Gate
Wagbeach
Walcot
Walford
Walford Heath
Walkmill
Walkmills
Wattlesborough Heath
Welshpool
Wentnor
Wern
Westbury
Westcott
Westley
Wheathall
Whitcot
White Grit
Wilcott
Wilcott Marsh
Willstone
Winnington Green
Wollaston
Woolstaston
Worthen
Wotherton
Wrentnall
Wroxeter
Yeaton
Yockleton
Where to find us:
More About Anne Whysall Florist & History
Flowers and design are our passion. Every design we make is made with care, dedication and creativity. Customer service and satisfaction is paramount to us which means we only buy the best quality products and store them in a purpose built glass fronted flower chiller to ensure maximum longevity for our customers.
Specialties
Anne is a specialist in Wedding and Event flowers; having spent 15 years working and teaching in the industry she has developed a broad sprectrum of experiences and skills. Anne has trained under world renowed florists and has lead teams of florists to multiple gold medals at National RHS flower shows.
Location & Delivery
Flower Delivery Service
We offer a local same day delivery service, for orders placed before 2pm.
Flower Delivery Charges
Delivery to Pontesbury and Pontesford is £2.00
The following areas are available for same day delivery at a charge of £4.00
Minsterley, Longden, Annscroft, Hook a Gate, Hanwood, Lea Cross, Pulverbatch, Habberley and Plealey
All other local locations will be charged at £4.75.
Overview for Anne Whysall Florist
All reviews for Anne Whysall Florist
Excellent service andvery prompt. I ordered at very late notice and beautiful flowers were delivered when requested at a very busy time (mothers day) The recipient loved the flowers and the hand written note. Thank you very much